Park Forest, IL-(ENEWSPF)- Park Forest's Rich East High School could be closing.
Tuesday evening, District 227 board members considered options for remedying the district's deteriorating buildings and a student body district officials say no longer warrants three high schools.
District 227 plans to hold community forums over the next month to hear from residents on how to best address the issues. Options considered include school closings, mergers, repairs to all three buildings, or the purchase of a new facility to house all district students.
"If we do nothing and continue to try to staff all of the schools and make repairs out of operating dollars, then we'll see declines in revenues, increases in expenditures and declines in fund balances," Dr. Alicia Evans, Assistant Superintendent for Business and Operations for District 227, said.
Evans presented six options to district board members Monday night. The least expensive of the options calls for the purchase of a new building and the partial renovation on an existing building for an estimated $105 million. The most expensive of the options calls for repairing and improving all three Rich Township high schools for an estimated $399 million.
The full list of options presented by District 227 include:
1. Repair all of the buildings
Estimated cost: $169.6 million
2. Repair and upgrade all of the buildings
Estimated cost: $399
3. Upgrade two schools and eliminate one
Estimated cost: $241.6 – $285
4. Build a new facility on an existing site to house the full student body
Estimated cost: $367 million
5. Build a new facility on an existing site and upgrade one facility
Estimated cost: $288.2 million
6. Purchase a facility and partially renovate an existing facility
Estimated cost: $105.6 million
District officials say although six options are being considered, public input could increase the choices.
"These are true options that we're looking at that we want to ask the community more about in the future," Evans said.
Community Forums Scheduled
Community forums begin June 20 at Rich South High School and continue through July 9.
Forums are set for:
June 20 from 6 to 7 p.m.
Rich South High School
5000 Sauk Trail
Richton Park, Il 60471
June 29 from 10 to 11 a.m.
District 227 office
20550 S. Cicero Ave.
Matteson, IL 60443
July 2 from 6 to 7 p.m.
Rich East High School
3000 Sauk Trail
Park Forest, IL 60466
July 9 from 1 to 2 p.m.
District 227 office
20550 S. Cicero Ave.
Matteson, IL 60443
July 9 from 6 to 7 p.m.
Rich Central High School
3600 203rd St.
Olympia Fields, IL 60461
Park Forest's Rich East, first opened in 1952, is the district's oldest high school.
District officials say the estimated cost to replace Rich East is $42.7 million while the estimated cost to simply make repairs to the building – not including any upgrades past repairs – is $59.9 million.
The district's other high schools, Olympia Fields' Rich Central, opened in 1962, and Richton Park's Rich South, opened in 1971, also need repairs, officials say. Rich Central needs an estimated $39 million in repairs and Rich South needs an estimated $32.6 million in repairs, Evans said.
District 227 estimates an increase to resident tax bills of just under one hundred dollars or up to $2,000 depending on the option selected and where residents reside.
Though the district says all three high schools remaining open is an option, board members admit an important factor is the district's student body of 3,000.
"Student wise, we don't have enough for three buildings," board member Cheryl Coleman said.
The school district hopes to make a decision shortly after the community forums conclude with a timeline for construction for the yet to be determined plan to be 2021-2025.
"At some point, a decision will need to be made and actions will need to be taken," Evans said.
This is from a release from the Village of Park Forest.
eNews Park Forest Addendum: Getting to Know Rich East
Dr. Albert Brass, Principal of Rich East High School, is an amazing leader. But he's not the only amazing leader inside that building. Over the past week-and-a-half, I've had the opportunity to sit down with Dr. Brass and Mr. Quincy Owens, new boy's head Basketball Coach Jamere Dismukes, Officer Gwendolyn Buckner, Police Liaison Campus Supervisor for Rich East High School; math teacher and Varsity Outside Linebackers' Coach and Sophomore Defensive Coordinator Mr. Brad Bochenek; Athletic Director Matthew Shank; and spent some time with Rich East Varsity basketball player C.J. Smith. Also had the opportunity to meet and take a nice picture of boys' and girls' volleyball Coach Rakecia Jenkins.
One "C-note" later, these interviews are out being transcribed at transcribefiles.net. They should come back in the next few days and I'll fashion them into proper articles.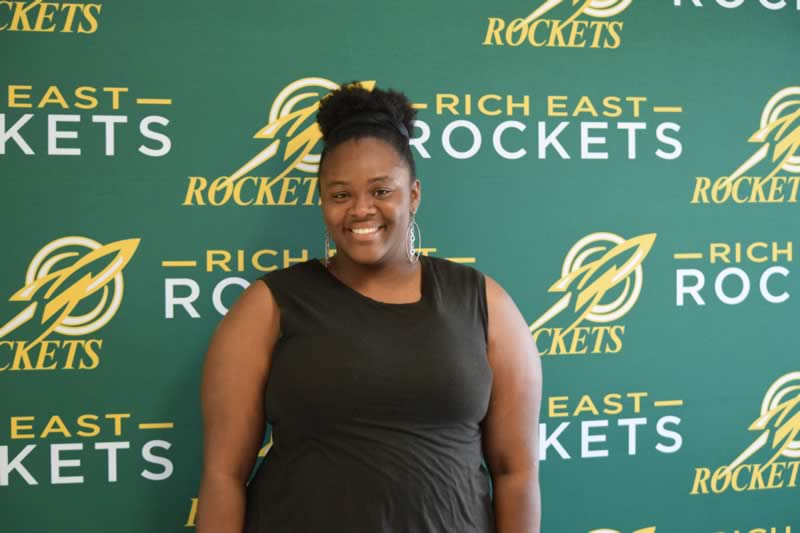 Know this much: Rich East High School is a gem we need to hang on to. 227 needs to wake up and realize that we are here for the long haul. Our kids at East, our "babies," as Dr. Brass calls them, deserve a long-term commitment from School District 227.
The Rockets must remain here to stay.
#HonorTheRockets!