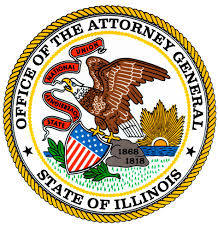 Chicago —(ENEWSPF)—June 29, 2017.  Attorney General Lisa Madigan today joined with nine other attorneys general to demand information and documents from the federal government concerning the detention and deportation of immigrants following the administration's executive orders on immigration and reports that show immigrants have been unlawfully detained, causing even greater fear and uncertainty in immigrant communities across the country.
Madigan and the attorneys general issued Freedom of Information Act (FOIA) requests to U.S. Immigration and Customs Enforcement (ICE), U.S. Citizenship and Immigration Services (USCIS), and U.S. Customs and Border Protection (CBP), seeking information related to the Deferred Action for Childhood Arrivals (DACA) program, arrests and detentions of individuals at sensitive locations, including courthouses and hospitals, and ICE or CBP detainer requests and databases.
The FOIA requests were prompted by fear and uncertainty in immigrant communities caused by the executive orders on immigration. Recent reports indicate people in immigrant communities are withdrawing from their communities in an effort to avoid questioning by authorities, including victims and witnesses not reporting crimes or cooperating with law enforcement agencies, parents afraid to send their children to school, and people avoiding necessary medical treatment. Madigan and the attorneys general believe the "chilling effect" of these new policies on immigration undercuts public safety, health and welfare.
"The federal government's aggressive immigration enforcement has caused fear and confusion in immigrant communities throughout Illinois and across the country," Madigan said. "The actions by federal officials have resulted in serious public safety concerns, and my counterparts and I want more information about how federal immigration enforcement agencies are operating."
In part, the letter states:
"The lack of transparency surrounding the Administration's enforcement activities and priorities is greatly exacerbating the fear in immigrant communities and decreasing cooperation with local law enforcement. Widely circulated reports in national and local media recount detentions and deportations of parents with young children, individuals approved for Deferred Action for Childhood Arrivals ("DACA"), and individuals meeting with federal immigration officials to discuss their status. Arrests are occurring in the vicinity of locations previously deemed by the Department of Homeland Security or its components as "sensitive," as well as in or around courthouses. Detainer requests are being issued more frequently to our state and local law enforcement officials and detention facilities. Meanwhile, accurate information on the numbers of and bases for detentions, deportations, and detainer requests, as well as actions taken upon those requests, has not been made available to our states or to the general public. To the contrary, we have learned that the Department of Homeland Security has reduced the amount of information it makes available about detentions, detainer requests, and deportations, at the same time it is significantly increasing its efforts."
Madigan and the attorneys general are seeking information from these agencies related to the DACA program, the agencies' actions at sensitive locations, which include hospitals, schools grounds and courts, and ICE or CBP detainer requests. Some of the specific information the attorneys general have requested includes details about the detention or deportation of individuals previously granted approval or extension under DACA, documents related to ICE or CBP designated sensitive locations, information about arrests or detentions within 100 feet of a courthouse, and data about detainer requests issued by ICE or CBP.
Attorney General Madigan has condemned the federal executive orders on immigration and has filed nine amicus briefs in five separate lawsuits challenging the constitutionality of the travel ban executive orders.
Madigan recently launched a "Know Your Rights" awareness campaign to provide guidance to members of immigrant communities, consulates and non-profit organizations to help immigrants living in Illinois protect themselves and their loved ones from unconstitutional and discriminatory action, as well as help them understand their rights and responsibilities when interacting with law enforcement. The Know Your Rights resources, including a pocket-sized guide of your legal rights, can be found on Madigan's website.
Joining Madigan in requesting this information are attorneys general from: California, Hawaii, Iowa, Maryland, Massachusetts, New York, Oregon, Washington and the District of Columbia.
A copy of the letter can be found here.
Source: www.illinoisattorneygeneral.gov