(PHOTO SUPPLIED)
Chicago, IL-(ENEWSPF)- Calling on President Obama to match the promises of his campaign, at 11:00AM on Sunday, Feb 17, over 300 residents of Chicago united in Grant Park in opposition to the Keystone XL oil pipeline. In solidarity with over 50,000 protesters in Washington, DC today, they called on President Barack Obama to deny TransCanada a permit to build a pipeline from the tar sands of Alberta through the Midwest to Louisiana, to make the president recognize that to issue the permit would, in his own words, "betray our children and future generations."
Rally attendees chanted, "Hey Obama, yes you can, drop the dirty pipeline plan!" as they surrounded the regional Department of State office by 77 W. Jackson. For the past four years, in response to massive public outcry, the State Department has repeatedly delayed its decision to approve the segment of the pipeline that crosses the US-Canada border.
The march and rally were organized by the Chicago Youth Climate Coalition (CYCC), a coalition of student groups from colleges and universities across Chicago. Speakers from CYCC, Environment Illinois, Pilsen Environmental Rights and Reform Organization (PERRO), and Rising Tide Chicago also addressed efforts to keep hydraulic fracturing or fracking out of Illinois, past victories in shutting down Fisk and Crawford coal plants last year, and the Enbridge oil pipeline that passes through Michigan and Ohio. A statement by congresswoman Jan Schakowsky was also read, warning fellow senators and representatives that "we cannot afford to be on the wrong side of history."
Paul Kim, a student at the University of Chicago and a member of CYCC, noted that "Hurricane Sandy, Hurricane Katrina, the rising food prices of the past summer's drought are just a preview" of what climate change may bring. He encouraged students to join a movement currently in 256 colleges and universities across the nation to get their institutions divested from oil, gas, and coal companies. "We are inspired by the students who cast a spotlight 25 years ago upon the moral bankruptcy of apartheid," Kim said. Student divestment efforts all over the city are growing and gaining traction, having spread to over eight universities in the Chicagoland area. "Organizing a mass Keystone XL solidarity rally in Chicago was a natural next step in uniting the power of students at different campuses, allowing us to begin to take on issues of national significance" said Dylan Amlin, a student at Roosevelt University.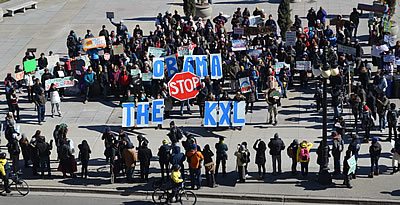 (PHOTOS SUPPLIED)