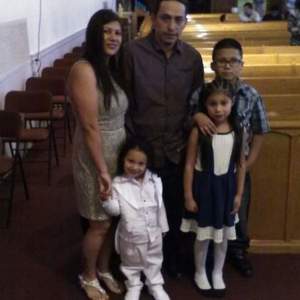 After a settlement was reached between the City of Chicago and Wilmer Catalan-Ramirez, organizers ask when the City review entire Gang Database process.
Chicago –(ENEWSPF)—December 7, 2017
By: Antonio Gutierrez and Barbara Suarez
Wilmer Catalan-Ramirez and his family announced yesterday that the City of Chicago has admitted error in including him in the "Gang Database," a mistake which led Immigration and Customs Enforcement (ICE) agents to Mr. Catalan-Ramirez's door during a nation-wide operation targeting suspected gang members.
As of the afternoon of December 5th, a letter has been attached to Mr. Catalan-Ramirez's record in the Chicago Police Department's Citizen and Law Enforcement Analysis and Reporting (CLEAR) System, which states that there is no proof in the database, and that he does not fit the definition of a gang member under state statute, including being "a person who actually and in fact belongs to a gang" (740 ILCS 147/10).
Mr. Catalan-Ramirez has been in immigration detention since March of this year and fighting his deportation in court. Although the City's letter clears him of the gang allegations and has no objections to his relief, Immigration and Customs Enforcement (ICE) has refused to release him.
"I am thankful for the letter that admits their mistake, but my family is still suffering the consequences" stated Celene Adame, Mr. Catalan Ramirez's partner and mother of his two children. "If Wilmer's name had not been on the Database to begin with, immigration agents would not have raided our home, and we could be spending Christmas together," she said. Ms. Adame has been a strong advocate against Mr. Catalan-Ramirez's detention and the Chicago Gang Database.
"Unfortunately once our community members are in the hands of immigration agents, we're not sure whether we'll get them back. Although we are glad to see that the City is willing to admit their mistake, it's too little too late," stated Xanat Sobrevilla, organizer with Organized Communities Against Deportations (OCAD). "The City of Chicago needs to admit that there are systematic problems with the entire Gang Database, and as a start, stop putting names into this list, review its content, create avenues for people to seek their removal from the list, and work with our communities to find real ways to keep our neighborhood safe that do not rely on criminalization and policing," she concluded.
The admission comes after organizers involved in the Campaign to Expand Sanctuary in Chicago published analysis of Chicago's Gang Database, showing that 96% of the nearly 65,000 people identified as potential gang members are Black or Latinx. Regarding that data, Janae Bonsu, the Policy Director of Black Youth Project 100 (BYP100) and one of the students leading the research, stated: "The data shows that the Chicago Gang Database is a target list of Black and Brown people who will be the victims of immigration raids, of incarceration and criminalization, and further policing."
###
Organized Communities Against Deportations (OCAD) is an undocumented-led group that fights deportations and criminalization of Black, Brown, and immigrant communities in Chicago and surrounding areas through grassroots organizing, legal and policy work, civil disobedience, and cross-movement building we aim to challenge the institutions that target and dehumanize us and reclaim our collective power.
Source: www.organizedcommunities.org