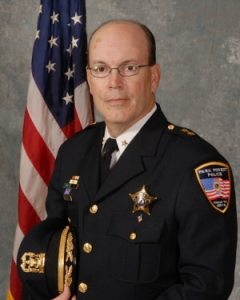 Park Forest Police Chief Cliff Butz. (PHOTO SUPPLIED)
Park Forest, IL-(ENEWSPF)- After 28 years of experience with the Park Forest Police Department, Cliff Butz officially was named Chief of Police on August 1 by Village Manager Tom Mick. He has been serving as acting chief since the retirement of Chief Thomas Fleming in early July. Chief Butz has served as a Park Forest Police Officer for 28 of his 55 years. Butz considers one of his most important accomplishments a long and happy marriage of 31 years.
The chief began his law enforcement career in 1979 when he served as a part-time Police Officer for the Village of Palos Park and special agent for the police department at the Chicago, Rock Island and Pacific Railroad. In 1981 he took a position as part-time Police Officer for the city of Palos Heights and special agent for the Indiana Harbor Belt Railroad Police Department.
On January 2, 1983, Chief Butz was hired by the Park Forest Police Departemtn. In June 1997 he was promoted to the rank of Corporal and assigned to the Patrol Division as a First Line Supervisor assisting a Commander in the day-to-day operation of one of the department's three shifts. Responsibilities included counseling, approval of paperwork, payroll and maintenance of activity sheets.
In Officer Butz was assigned to the Investigations Division with supervision responsibilities for three detectives, along with being the "lead" investigator of all major cases such as Homicides, Armed Robbery and Aggravated Battery incidents. Other responsibilities included counseling, approval of paperwork and payroll.
In April 2001, Butz served as Commander of the Investigations Division where he was responsible for the day to day operations of the Criminal and Juvenile Divisions, along with the supervision of the four detectives assigned to the Criminal Division and the department's 19 certified Juvenile Officers. Among his responsibilities were the proper follow-up of all police investigations, the assignment and tracking of all cases, the training and developing of new detectives and 24-hour a day "On Call" availability to the Patrol Commanders for consultation and advice. He was further responsible to the Field Operations Deputy Chief as Lead Investigator of all major Internal Affairs violations and for other duties as assigned by the Chief of Police.
Commander Butz was named Deputy Chief of the Administrative Services DivisionC in September 2006. In this position he was responsible for the day to day operation of the Records, Corrununity Policing and Training Divisions along with the twelve non-sworn and two sworn employees assigned to those divisions. Further responsibilities include the scheduling and arranging of all training, including new hires and the payroll of the entire police department. Further responsibilities include overseeing the Department's Municipal Adjudication process, Vehicle Seizure hearings and the Community Supervision program. He also sat on the Village's Fire and Police Commission corrunittees that are responsible for hiring new officers and promoting current officers to the ranks of Corporal and Commander. He filed position reports directly to his predecessor as Chief of Police, Thomas Fleming.
Other responsibilities as Deputy Chief included overseeing the day to day operations of both the Patrol and Investigations Divisions along with direct supervision of the five Commanders, six Corporals and twenty-five Police Officers assigned to those divisions; preparing and maintaining the Department's $6.8 million dollar budget, for ordering and equipping the department's vehicle fleet; preparing and maintaining of the Patrol Division's 12-hour schedule and all Internal Affairs Investigations along with researching and applying for state and federal grants.
Village Manager Tom Mick expressed certainty in his decision to name Butz Chief of Police, "With 28 years of experience in Park Forest and more than three decades of police service, I am very confident Cliff Butz will be the next in a long line of excellent Chiefs who have led the Park Forest Police Department."
Mayor John Ostenburg echoed these sentiments, "Cliff Butz is an outstanding police officer with a great tradition of effective patrol and detective work. He is respected by his fellow law-enforcement professionals, not only in our Village but throughout the greater Chicago Southland community. I believe Manager Mick has made an excellent selection and I look forward to a continued positive working relationship with the chief."