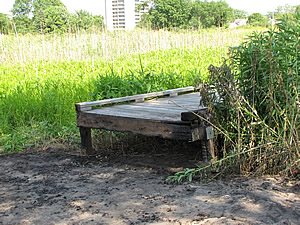 This scorched boardwalk led to the observation platform in the middle of the Central Park Wetlands. The platform was destroyed by fire last night. (ENEWSPF)
Park Forest, IL-(ENEWSPF)- A 2004 gift of Park Forest Rotary to residents and a grant from the Illinois Department of Natural Resources made possible one of the village's iconic structures: a wooden observation platform in the middle of the Central Park Wetlands. That platform was consumed by flames early Wednesday morning, burned to the ground by a fire the Park Forest Fire Department calls "suspicious" in nature, according to a release on the village Web site.
According to the release, fire crews were dispatched to scene on North Orchard Drive at 5:06 this morning.  On arrival, the fifteen-foot-tall wooden observation deck, situated in the center of the 45-acre wetland, was fully engulfed in flames.
Crews were on the scene for over an hour, where they used fire extinguishers to put out the blaze due to the limited access at the site.
Village officials estimate the cost to replace the structure at $10,000.
Park Forest Mayor John A. Ostenburg expressed his disappointment while calling for the person or persons responsible for the fire to face punishment. 
"It is extremely disappointing that something like this would happen to a major amenity in our community that so many enjoy," the Mayor said in a statement, "and now we have to face the unfortunate situation to either leave it unrepaired or spend a considerable amount of tax dollars to replace it.
"We have to establish if somebody did this consciously or accidentally, but in either case, they need to be held responsible." 
Fire officials say that while the cause of the fire is under investigation, it is being called a fire of "suspicious nature."  An empty cigar wrapper was found at the scene – leaving open the possibility of the fire being accidentally set.  
The observation deck was installed in 2004 with a large portion of the funding donated by the Park Forest Rotary Club.
Anyone with information is asked to call the Park Forest Police Department at  708-748-8390.
Brief video below photos.
What remains of the observation deck in Park Forest's Central Park. Residents with information asked to call police. (Photo: VOPF)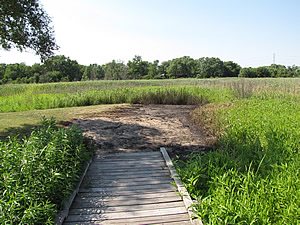 The marker reads: "Boardwalk & Viewing Deck Provided by the cooperation of the Rotary Club of Park Forest and a IDNR Natural Resources C-2000 Grant (Bottom 4 photos: ENEWSPF)