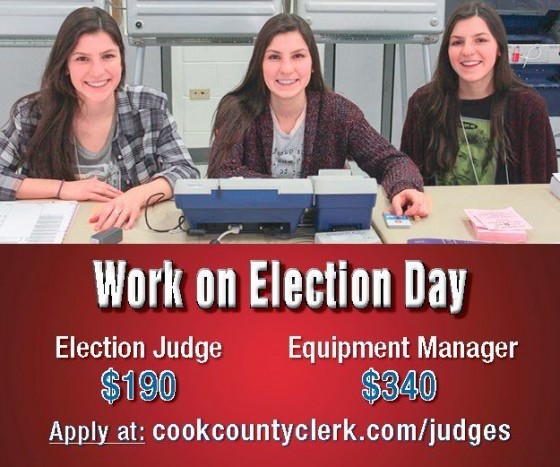 Chicago, IL-(ENEWSPF)- Cook County Clerk David Orr encourages suburban Cook County voters to serve their communities and earn some money by working as election judges and equipment managers in the November 8, 2016 Presidential Election.
The need is especially great among Cook County's north and northwest suburbs.
"This being a very highly anticipated Presidential election, we expect strong turnouts in suburban Cook County, and my office in working to insure that every polling place is fully staffed and that voters have the best – and quickest – experience at the polls by getting the word out now," Orr said.
There are two positions available: Election Judge and Equipment Manager. Both assist voters and ensure the polling place is running smoothly. Equipment managers have greater responsibility for setting up and maintaining the voting equipment. Because of the additional responsibility, equipment managers receive more training and higher pay.
Communities which particularly have a need for poll workers include: Barrington, Des Plaines, Glencoe, Glenview, Kenilworth, Morton Grove, Niles, Northbrook, Northlake, Park Ridge, Rolling Meadows, Skokie, Streamwood, Wheeling, Wilmette, and Winnetka.
Election Judges Representing Both Parties Needed
Election judges representing both parties – Democrat and Republican – are needed. Orr particularly encourages those who wish to serve as Republican Election Judges to apply, because there is a greater number of Republican vacancies in suburban Cook County.
Anyone who wishes to serve on Election Day is encouraged to apply soon, so they will have time to take part in training classes. Prospective Election Day workers can apply online, at: cookcountyclerk.com/judges or by calling (312) 603-0970.
The Clerk's office has raised the pay for both election judges and equipment managers by $15 – Election Judges now earn $190 and Equipment Managers earn $340. "Our workers are very dedicated and committed to making our elections run as smoothly as possible," Orr said. "They go through extensive training, have to wear many hats, work long days and have a great deal of responsibility as the people on the 'front lines' on Election Day."
Prospective Election Judges who are bilingual in Spanish, Chinese, and Hindi are especially encouraged to apply.
College and high school students  who meet the requirements to work at the polls on Election Day can also serve (and get paid) on Election Day.
Election judges are responsible for supervising the conduct inside polling places and facilitating the voting process. Election judges must either be a registered Cook County voter or an eligible high school or college student. Poll workers must have transportation to and from their polling place.
Source: Cook County Clerk