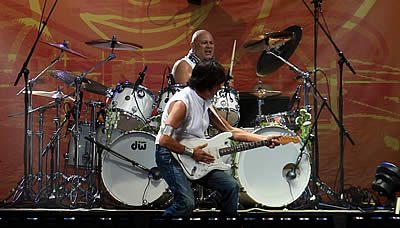 Jeff Beck at Saturday's 2010 Crossoads Guitar Festival. (Photo: Anthony Dellaria)
Bridgeview, IL—(ENEWSPF)—June 27, 2010. Eric Clapton's 2010 Crossroads Guitar Festival returned to Bridgeview's Toyota Park Saturday, June 26. The day-long love fest featured legendary guitarists and artistic collaborations by Eric and his friends for the benefit of Clapton's Crossroads Centre in Antigua. The Crossroads Centre, founded by Clapton in 1997, provides quality, affordable treatment for alcohol and other drug dependencies and has become recognized as an international Centre of Excellence for addiction treatment.
People have often questioned me as to why I would travel to Europe to see a concert. The answer is simple. Americans primarily go to concerts for the party while our counter-parts in Europe go to hear the music. The Crossroads Festivals have been the closest thing to hearing music in Europe and this year's event in Bridgeview kept the 27,000 people in attendance barely wanting to leave their seats on this scorching hot June day.
Bill Murray once again served as MC and started the event promptly at noon. For almost 12 hours, those in attendance heard the 'best of the best' from musicians of all genres ranging from blues, rock, country and even a Puccini classic. The 2010 lineup:
Sonny Landreth
Robert Randoph
Joe Bonamassa
Pino Daneile
Robert Cray
Jimmie Vaughan
Hubert Sumlin
Bert Jansch
Stefan Grossman
ZZ Top
Doyle Bramhall
Gary Clark
Sheryl Crow
Vince Gill
Albert Lee
James Burton

Keb Mo
Citizen Cope
Earl Klugh
John Mayer
Buddy Guy
Jonny Lang
Ronnie Wood
Dereck Trucks
Susan Tedeschi
Warren Haynes
David Hidalgo
Cesar Rojas
Johnny Winter
Jeff Beck
Steve Winwood
BB King and of course
Eric Clapton.
The many highlights included Buddy Guy, Jonny Lang, and Ronnie Wood wailing an instrumental version of Mick Jagger's 'Miss You,' solos by bass guitarist extraordinaire Rhonda Smith during the Jeff Beck set which included Puccini's 'Nessun Dorma' from the opera Turandot, Eric Clapton and Steve Winwood's 15+ minute version of the Jimi Hendrix classic 'Voodoo Child,' Winwood's performance of 'Dear Mr. Fantasy,' and the finale consisting of BB King, Robert Cray, Jimmie Vaughn and Clapton.
While many in the crowd were looking forward to seeing the Allman Brothers Band, they had to cancel due to Gregg Allman's successful liver transplant surgery that occurred last week. The Allman's were replaced by the Derek Trucks & Susan Tedeschi Band who along with Warren Haynes, Sheryl Crow, David Hidalgo, Cesar Rojas, and the legendary Johnny Winter, filled the void with some of the hottest music of the day.
Personally, I looked forward to hearing Clapton's set. When I had the opportunity to attend the Eric Clapton/Jeff Beck concerts at London's O2 Arena in February, Eric looked a bit frail as this was his first concert appearance since his 2009 surgery. But the old Clapton was back in Bridgeview in fine form.
This was the second Crossroads Festival I have attended. And just as was the case in 2007, the magic of the day is not only the music, but the sense of respect, love and musical joy the artists clearly have for each other, along with the respect and admiration they all have for Clapton. Clapton in turn, looks like one of the fans. The best camera shots are those showing Clapton back stage watching the show as intently as we are with that ear-to-ear smile on his face looking amazed that his peers have once again answered the call to help this wonderful charity. It was a day filled with great music, and lots of love for one of the greatest guitarists of our times. Hopefully, we'll have the opportunity to do it again in a few years.
If you didn't have the opportunity to attend the Crossroads Festival, on Tuesday, July 27 at 7:30 p.m., 475 movie theaters nationwide will present a two-hour movie featuring musical performances from the 2010 event. For more information, a list of participating theaters or to purchase advance tickets, visit http://www.fathomevents.com.