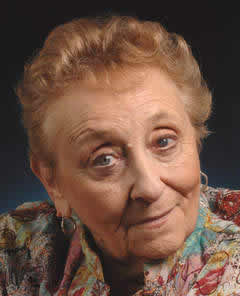 Etel Billig. (PHOTO SUPPLIED)
Visitation for Etel will be held on Monday, April 2, from 2 to 8 PM at Lain-Sullivan.
The Funeral will be held on Tuesday, April 3 beginning at 11 AM, also at Lain Sullivan.
Park Forest, IL—(ENEWSPF)—March 29, 2012. Illinois Theatre Center (ITC) co-founder and Artistic Director Etel Billig died on Wednesday evening, March 28, 2012 after suffering a brain aneurism the previous day while working at the theatre. She was 79.
Etel Billig had a career that spanned over 60 years as an American actress, singer, teacher and director. In 1976, she founded ITC with her late husband Steven. She has appeared in or directed over 120 productions at ITC which is the only professional Equity theatre in the south suburbs of Chicago.
Etel's other theatre credits included roles at The Goodman, Wisdom Bridge, Court, Drury Lane Oakbrook, Candlelight, Forum and Body Politic Theatres.  She was also active in film and TV work, and taught theatre at Prairie State College.  Etel served as the President of the Southland Regional Arts Council and as a member of the Theatre Advisory Panel of the Illinois Arts Council. She has received numerous awards for her contributions to the arts.
Tall Grass Arts Association issued the following statement: "[We] would like to express our deep sorrow over the death of Etel Billig, the artistic director (and moving spirit) of the Illinois Theatre Center. Etel was a force to be reckoned with… feisty, outspoken and a fierce fighter for the success and future of her theater. She was also kind, and generous, especially to the arts. She introduced hundreds of children to the arts, in general, and specifically to the theater. Her students carry on that traditional all over the country. She will be deeply, deeply missed."
Her son, Jon Billig, said that "after it was determined that there was no hope for recovery, she was removed from life support. Funeral arrangements will be announced at a later time. I thank all my friends for their support and prayers." 
In this video from April 2011, Etel Billig chats with eNews Park Forest about the Illinois Theatre Center, then celebrating over 35 years in Park Forest.