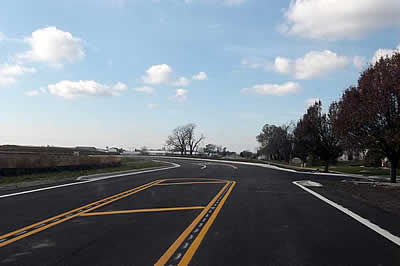 (PHOTO SUPPLIED)
Road project reflects highway department's new role as an active force in economic development
Chicago-(ENEWSPF)- Cook County Board President Toni Preckwinkle announced today that Joe Orr Road's recent realignment and eventual extension into Indiana will yield economic benefits for the south suburban region.
The first phase of the project, from east of Stony Island Avenue to Torrence Avenue in Lansing, moved and reconstructed Joe Orr Road further south and expanded it to five lanes. At the same time, Torrence was widened to three lanes from the new Joe Orr intersection to the old one. A traffic signal was installed at the new intersection in preparation for future expansion to Munster, IN. The first phase included new curbs and gutters, drainage improvements, landscaping of parkways and median, and new pavement markings and signage. The estimated cost to date of the 1.3-mile project is $7.2 million
Once completed, Joe Orr Road will be a major east-west corridor for the southeast region of the County. The six-year expansion project should be finished in 2017. The roadway runs through Lynwood and will have positive impacts for all the surrounding south suburban communities.
 "The new focus of the Cook County Department of Transportation and Highways is to shape roadways to promote regional economic growth," President Preckwinkle said. "This project reflects the department's strategic role as an active force in economic development. We recognize that building and improving infrastructure is the first step toward attracting business."
Lynwood Mayor Gene Williams called the Joe Orr expansion "the gateway to future development" in his village.
"The expansion creates three new intersections—that's 12 corners that didn't exist before and should prove valuable to businesses," Williams said. "Anyone who drives through the already finished portion of the road can see all the possibilities. It's creating islands of opportunities. A traffic pattern is being created that will attract businesses and make them flourish."
Another example of the highway department's strategic focus is the Center Street expansion in Harvey. The County is using $8-10 million dollars in Motor Fuel Tax to reconstruct and widen this crucial truck route and allow easy access to the industrial operations along Center Street, including Canadian National Railroad's Gateway Intermodal Terminal, UPS, Fore Transportation, and other national and local businesses. A quality truck route will promote further development around Center Street and could potentially generate up to 3,000 manufacturing and logistics jobs in the South Suburbs.