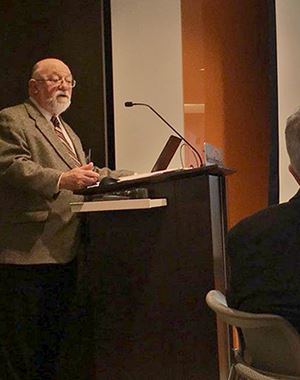 Park Forest, IL—(ENEWSPF)—December 8, 2017. On Dec. 5, nearly 50 mayors from the U.S., Canada and Mexico — including Park Forest Mayor John Ostenburg — signed the #ChicagoCharter in support of the Paris Agreement's goals, and committed their cities to climate action. The event took place during the North American Climate Summit in Chicago. A related story, "Mayors unite in Chicago-led effort to confront climate change" is in Curbed.
During the second day of the summit, Ostenburg spoke about the importance of centering climate action at the local and regional levels at a Mayors Climate Breakfast hosted by the Metropolitan Planning Council and Metropolitan Mayors Caucus. That requires that we work across the spectrum to create solutions, he said. The Mayors Caucus' "Greenest Region Compact" framework identifies priorities and opportunities for regional climate action and sustainability.
The North American Climate Summit in concert with the Global Covenant of Mayors for Climate and Energy, brought together municipal leaders from across the United States, Canada and Mexico to sign the Chicago Climate Charter, a first-of-its-kind international charter on climate change. Cities discussed opportunities, barriers, and avenues to collaborate as they move forward with aggressive climate action plans over the next two years.
Attendees signed the Chicago Climate Charter on Dec. 5, marking the way forward for municipal leaders to take climate action into their own hands in the face of federal inaction. By signing the Chicago Climate Charter, mayors in the region are addressing climate action at the local level by committing to emissions reductions while expanding economic opportunity and quality of life. Many local leaders will also make aggressive individual commitments for their respective cities.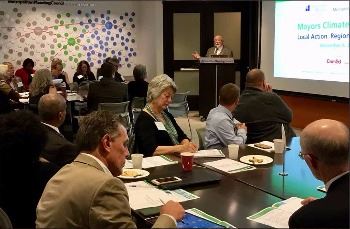 For the last several years, Park Forest has aimed to establish itself as a leader in sustainable practices — enlisting the assistance of the Chicago Metropolitan Agency for Planning in creating a sustainability plan in 2012 and implementing many changes in the village detailed in the plan.
In 2015, Park Forest received a 3-STAR Community Rating for sustainable practices.
Source: www.villageofparkforest.com