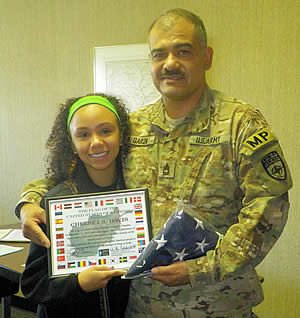 Marian Catholic students coordinate care packages for soldiers stationed in Afghanistan.
Chicago Heights, IL-(ENEWSPF)- As a Marian Catholic junior last school year, Chelsea Davis of Crete, and the rest of her EMMAUS class (Every Marian Moment Affirms, Unites, Strengthens; the Marian Catholic version of homeroom) accepted her suggestion to conduct a service project to benefit military personnel serving overseas. The group decided to hold a bake sale at school and use the proceeds to purchase personal care items in addition to disposable cameras, paper & pens, batteries, puzzle books and playing cards.
Davis remembered her schoolmate from St. Lawrence O'Toole and MCHS, sophomore Emilio Garza of Homewood, whose father served in the Army and was stationed in Afghanistan. She thought sending the items to someone she knew would make the gesture more special for the entire class. Once the items were assembled and packed, the class included a letter of thanks and Davis sent the boxes to a military address she had been given.
Months and months passed with no word of the care packages being received by American soldiers.
Then, just before spring break, Sergeant 1st Class Heriberto Garza, MP, U.S. Army, made a surprise visit to Marian Catholic. Davis was called to the office where Sgt. Garza warmly greeted her and thanked her profusely for the items which he had shared with his fellow soldiers.
Sgt. Garza presented Chelsea Davis with an American flag which had flown over Camp Eggers, located in Kabul, Afghanistan, on September 11, 2011 marking the 10th anniversary of 9/11.
Visibly touched by the gesture, Davis said, "I'm honored and really happy. Our class didn't do this project to get a reward or recognition. We felt it was something that should be done to show our appreciation of the troops."
Sgt. Garza presented an additional American flag from Camp Eggers to Marian Catholic Principal, Sister Kathleen Anne Tait, O.P., saying, "The good and thoughtful citizens of Marian Catholic should be proud of students like Chelsea Davis and her class for being young people who sincerely care for those serving our country."