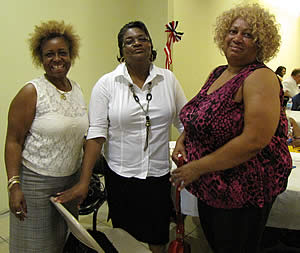 Carol Cook of East Hazel Crest (left to right), Ruth Chatman of Country Club Hills and Janet Smith of Glenwood join Obama supporters at the opening of the 2012 re-election campaign. (Photo: Gary Kopycinski)
Hazel Crest, IL-(ENEWSPF)- Supporters gathered in Hazel Crest Thursday evening to celebrate the opening of President Barack Obama's official South Suburban re-election headquarters. The event was sponsored by the Democratic Women of the South Suburbs.
Sheena Patton of Chicago Heights, president of the organization, addressed the group first.
Attendees included Joy Virginia Cunningham, a candidate for the Illinois Supreme Court, and Farah Baqai, Democratic candidate for the third congressional district in Illinois.
Video from the event: