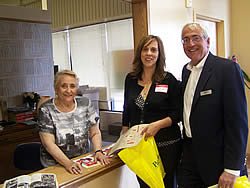 Park Forest, IL–(ENEWSPF)– Members of the public are invited to participate in a unique business event this week in DownTown Park Forest as the Village hosts its annual Progressive Business After Hours. Offering the opportunity to win prizes, the event features food, drink, and is completely free.
On Wednesday, July 7th, the Village of Park Forest and the Economic Development Advisory Group will host its fifth annual Business After Hours (BAH). This year, more than 30 commercial and home-based local businesses will participate by displaying their products and services to the public. The event will be held from 5:00 p.m. to 7:00 p.m. at Dining on The Green, 349 Main Street in DownTown Park Forest.
Among those businesses returning this year to participate are Muzicnet Performing Arts Center, Design'd To Go Florist, Relativity Resources Business Development, Quality Classic Health and Fitness Center, State Farm Insurance, Tall grass Arts Association, ENews Park Forest, A Gentleman's Place, and Southland Caterers.
Newcomers this year include the Holiday Star Theatre, JTP Photography, J&C Security Inc., Anthony's Mobile Fingerprinting, Inc, Noemi's Bridal, and Salon Artist Gallery.
eNews Park Forest will also participate in this year's event.
Attendees are encouraged to visit various local businesses in downtown Park Forest during the event to qualify to win raffle prizes. Among the prizes are Chicago White Sox and Cubs tickets, autographed photo of Chicago White Sox Gavin Floyd and Carlos Quentin, limited edition Chicago Bears Four Leader Color Prints, a 30 day pass for 2 to the Holiday Star Theatre, a Nikon Coolpix camera, and tickets to Freedom Hall and the Illinois Theatre Center.
Again, admission to the Business After Hours is free to the public. The evening also includes food, fun, and entertainment. Following the event and raffles, attendees are invited to stay and join Park Forest and south suburban residents as they enjoy live music on the lawn.
Parking for the event is conveniently located 1 block north of Liberty Drive, right behind the Holiday Star Theatre.
For more information about the Economic Development Advisory Group or upcoming community events visit the Village website at www.villageofparkforest.com.