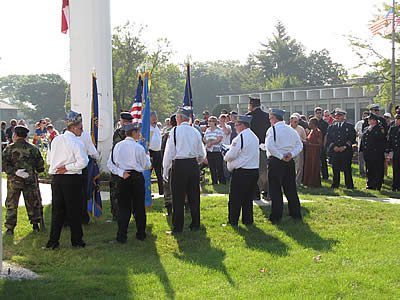 Members of the Park Forest American Legion Honor Guard chat before Sunday's memorial ceremony. (ENEWSPF)
Park Forest, IL-(ENEWSPF)- Residents, staff, village officials, the young and the elderly, paused Sunday morning to remember September 11, 2001 at the Police and Fire Memorial next to the Park Forest Fire Department.
"I'm sure all of you remember where you were on that occasion when you first heard of the activities that occurred on September 11," Mayor John Ostenburg said. Telling those gathered he related to Vice President Joe Biden's remarks Saturday in Shanksville, Pennsylvania, when Biden said, "Those of us who have experienced tragedy in our lives, we know exactly what it's like to get that phone call, to hear that message."
"The additional tragedy that those families experienced was that many of them had to bear witness, right before their eyes, what was occurring because it was being broadcast across the nation," the mayor said.
Fire Chief Robert Wilcox said he was in a staff meeting on Tuesday, September 11, 2001 when his deputy chief knocked on the door, pulled him from the meeting and asked if he had any idea what was happening in New York City. "Of course, at that point, I had no idea," Wilcox said. "We walked out to the kitchen and we turned on the TV, and when the TV came on, I saw a plane strike the second tower, and I couldn't believe what I had just seen."
The chief said they watched for about an hour when they heard on the news that the Sears Tower might be targeted, "At that particular point, the TV watching stopped and the planning began for what would happen if in fact the Sears Tower was struck."
Pastor Michael Sykes of Faith United Protestant Church in Park Forest said he and his wife were driving to the Sears Tower where his wife worked. "Due the fact that ten years ago and today, I had family members living and working in New York City, I made concerted efforts to find out if all of my loved ones were safe."
"We have gathered not only to remember the victims who lost their lives on September 11, but also to remember the heroes who risked their lives, and the ones who sacrificed their lives to save the lives of others," Rev. Sykes said. "What do you call it when one lays down one's life for perfect strangers? That sounds like divine love to me. So let us remember those who gave that last full measure of devotion on 9-11-01, as a reflection of divine love."
The ceremony concluded with a three volley salute from the Park Forest American Legion Honor Guard and the playing of Taps by Commander Paul Winfrey of the Park Forest Police Department.
2,996 people died on September 11, 2001, including 466 firefighters, police officers, military and EMS personnel.