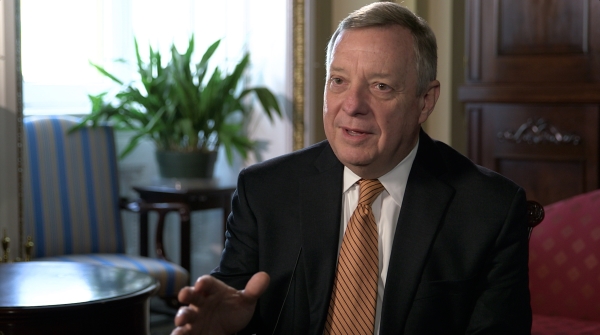 WASHINGTON—(ENEWSPF)—July 17, 2018
By: Rosemary Piser
Today, Senator Dick Durbin (D-IL) called on his Senate Republican colleagues to speak up and put country before party following President Donald Trump's remarks at a joint press conference with Russian President Vladimir Putin.
Durbin said in a speech on the Senate floor, "Yesterday, we watched in disbelief as the president not only refused to even acknowledge the act of cyber war against the United States, but incredibly blamed America first for our poor relationship with Russia.  We watched our American president refuse to stand up to Vladimir Putin, a former KGB official, who executed one of the most breathtaking cyber-attacks in history aimed at the United States and aimed at undermining the Western security alliance and our country's democracy.  An American president stood on the world stage next to a tyrant – a tyrant who denies that he attacked us – and then the President of the United States repeatedly agreed with that adversary and dismissed criminal indictments of Russian government officials responsible for the attack.  I'm at a loss for words to describe what happened yesterday in Helsinki, Finland.  I'm disappointed as well by the stunning silence of some of my colleagues on the other side of the aisle in response to it."
In addition, Durbin called out Senate Majority Leader Mitch McConnell (R-KY) for his refusal to work with President Obama in 2016 to put out a bipartisan statement condemning Putin's election meddling efforts so as to avoid any hint of partisanship in the election and to present a unified deterrent.
Finally, Durbin pointed out Senator John McCain's (R-AZ) statement on President Trump's remarks at the joint press conference with President Putin.
"There is one Republican Senator who is not silent.  My friend, the great American patriot, John McCain said yesterday, and I quote about the Helsinki press conference, 'Today's press conference in Helsinki was one of the most disgraceful performances by an American president in memory. The damage inflicted by President Trump's naiveté, egotism, false equivalence, and sympathy for autocrats is difficult to calculate… President Trump proved not only unable, but unwilling to stand up to Putin. He and Putin seemed to be speaking from the same script as the president made a conscious choice to defend a tyrant against the fair questions of a free press, and to grant Putin an uncontested platform to spew propaganda and lies to the world.'  I could not agree more.  It is obvious.  We, all of us, Democrats and Republicans, should agree with what John McCain said," Durbin said.
Source: www.durbin.senate.gov
Related Articles:
Has Trump Finally Gone Too Far? (Video)
Calls for Trump Impeachment Grow as 'Bizarre' Helsinki Performance Draws Epic Backlash