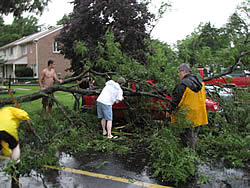 Update: 200 Still Without Power in Park Forest
More photos: After the Storm on Ash Street
Park Forest, IL–(ENEWSPF)– Fierce winds ripped through the South Suburbs Wednesday evening, downing trees, tree limbs, and cutting power to at least 72,000 residents in the South Suburbs. Park Forest Village Manager Tom Mick reported power outages in much of East and West Lincolnwood, many of the "W" streets, and parts of the Eastgate area. Mick added that there were reports of downed trees and damaged vehicles all over Park Forest.
A representative from Commonwealth Edison media department reported 180,000 reported system-wide outages.
"Thank God nobody was hurt," Ash Street resident George Manno said as neighbors pitched in to help cut a limb that had fallen on top of his car.
Village Manager Mick said Public Works crews had been dispatched to clear trees that had fallen all over Park Forest. As of 9:00 p.m., the Park Forest Fire Department had not received any calls for storm-related injuries.
The winds may have been the result of a microburst, according to one official.
The National Weather Service says there is a 30 percent chance of showers and thunderstorms, mainly before 11p.m. The sky will remain mostly cloudy, with a low around 67, with a west northwest wind between 10 and 15 mph, with gusts as high as 20 mph.
Thursday is expected to be mostly sunny, with a high near 81. Winds will be north northwest between 5 and 10 mph, with gusts as high as 15 mph.
More photos: After the Storm on Ash Street
Update: 200 Still Without Power in Park Forest