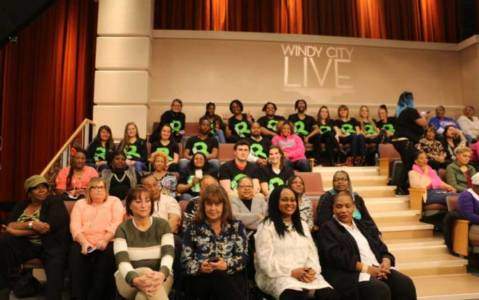 Photo: roosevelt.edu
CHICAGO–(ENEWSPF)–April 10, 2017.  Twenty Roosevelt community members visited ABC-TV, cheering loudly in the audience for a live taping of Chicago's popular talk show, Windy City Live (WCL) on April 5.
Wearing colorful black t-shirts with Roosevelt's signature "R" logo, students received a warm welcome from WCL co-hosts Val Warner and Ryan Chiaverini, who gave a shout out to Roosevelt University at the start of the live TV show.
"I had only seen the show on TV before, and it was great to be there in person," said Dorian Meizhan, a sophomore who is public affairs and community outreach director of Roosevelt's Student Government Association.
"It was a great way to promote the University, and besides the show itself, we got to see the crew and the cameras," he said.
WCL's special guest was fashion designer Donna Karan. Chicago radio talk show host Roe Conn cooked a pasta dish from scratch in WCL's set kitchen. Warner and Chiaverini posed for pictures with Roosevelt students.
"It was fun and different. I'd never been on a TV set before, and it was quite an experience," said Roosevelt senior Katarzyna Koziara, an actuarial science major and a Roosevelt resident assistant.
Roosevelt alumna Elizabeth "Lizzie" Elie, who was part of the Roosevelt group, was one of many in the audience who continually posted photos of the experience on social media.
"I was so honored to be able to attend the show with my alma mater," said Elie, a 2015 integrated marketing communication graduate.
Elie runs a business as a motivational speaker and rap singer with a positive message, and handed out her latest CD during the show. "Maybe this will lead to something big for me in the future," she said.
Source: http://roosevelt.edu