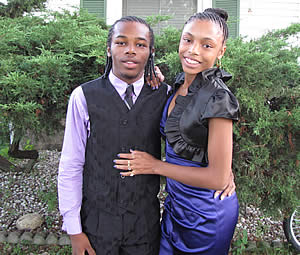 Mikal Ramadan with his girlfriend Chardae Tolbert. (Photo: ENEWSPF)
Park Forest, IL-(ENEWSPF)- Two-year-old Iryanna Foster was at her babysitter's house last week when, in the middle of the night, she decided she wanted her mommy. Quietly unlocking the front door and closing it behind her, she went in search. Lucky for her, a young Park Forest man found her and helped return her home.
Mikal Ramadan, 18, says he was riding his bicycle home just after midnight last Tuesday, August 30, when he came upon a sobbing 2-year-old girl on 26th Street. He says he was returning home from his girlfriend's house in South Chicago Heights when he discovered the toddler wandering around at the east intersection of 26th and Allegheny Streets.
"As I was riding, I heard some crying on the right side of me in Eastgate," Ramadan says. "I looked down the street and saw a little girl about to walk down 26th Street."
Ramadan, a 2011 Bloom High School graduate, says he asked the girl her name but he was unable to understand what she said. "She was small. I wasn't going to leave her out there by herself. I called the police. The police officer came and took her."
"I wasn't trying to get anybody's parents in trouble. My first instinct was to get her home," Ramadan said.
No one got in trouble.
Mom Ieshia Foster with clever Iryanna, age 2. (PHOTO SUPPLIED)
Carrie Lewis, a family friend, was babysitting Iryanna at her home on Allegheny Street. She said Iryanna was crying a bit that night, "She wanted her mom. She got down off her bed. She unlocked the door, got out the door, and closed the door behind her."
Ms. Lewis said she and the girl's aunt called 911 when they discovered Iryanna missing. "As we were calling, they had just came in the police station with her."
Mother Ieshia Foster said she was frightened when she heard what had happened, "I was scared." Discovering that Iryanna had wandered all the way to 26th Street, mom said she had visions of her daughter wandering off down 26th Street, crossing over into the Forest Preserve, or worse.
"I was blessed," she said, adding that she gave her daughter a "big hug" when she got home.
Ms. Foster expressed her gratitude to Mr. Ramadan, "I want to thank him. To him I say, 'Thank you very much!'"