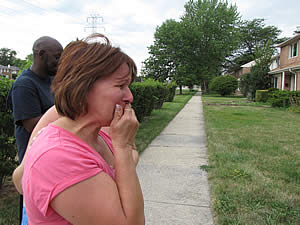 Marge from Ash Street reacts to the fire on Ash Street earlier Tuesday afternoon. (Photo: Gary Kopycinski)
Updated 7:30 p.m., July 10, 2012
More pictures from the deadly inferno here on Facebook.
Park Forest, IL-(ENEWSPF)- Park Forest officials confirm the deaths of a 59-year-old male and a 78-year-old female following a fire at a cooperative unit on Ash Street Tuesday afternoon.
The Park Forest Fire Department, paramedics and police responded to a structure fire in the first block of Ash Street on July 10. With smoke still billowing from an upstairs bedroom, fire personnel rescued two smoke-charred, apparently non-responsive individuals from the co-op unit. Fire personnel immediately began chest compressions on the individuals, subsequently transporting them to St. James Hospital in Chicago Heights.
One of several juveniles who witnessed the fire reported hearing a "giant boom."
"And so we started running. We thought it was a barbeque." Autumn Worthington reported seeing "a little fire by the window."
Park Forest Firefighters enter the residence with smoke still coming from windows. (Photo: Gary Kopycinski)
The witness said one man began knocking on a series of doors while the juveniles knocked on other doors. They went to see if the car belonging to the individuals inside the burning unit was in it's spot, "And it was."
The witness said a man called the police and they got the attention of the Ash Street Cooperative office staff.
The juveniles made police aware of the presence of a dog inside the unit, "There was barking," Ms. Worthington said.
Witnesses say the dog was the first to exit the residence when firefighters gained entry. The dog appeared unharmed.
Officials at St. James had no immediate comment on the condition of the two who were removed from the unit, but officials in Park Forest later confirmed the death of the two individuals. The preliminary cause of the blaze is believed to be careless smoking.
More pictures from the deadly inferno here on Facebook.
Please note: second video shows actual bodies being removed from the unit. At the time, ENEWSPF did not know the individuals removed would later be declared dead. Video is included to show the work of paramedics and firefighters. We mourn the loss of the dead. Our readers deserve to see how hard paramedics worked to save these two lives.
Some thought we should not have published the video of the attempted rescue, but believed the public had the right to know how our paramedics and firefighters tried to save these two lives. (N.B. At the time these videos were shot, we had no idea who would live or die following the fire.
)
More pictures from the deadly inferno here on Facebook.
Response: Why We Posted — And Did Not Delete — The Video of the Ash Street Fire Rescue Attempt (Link added July 12, 2012)