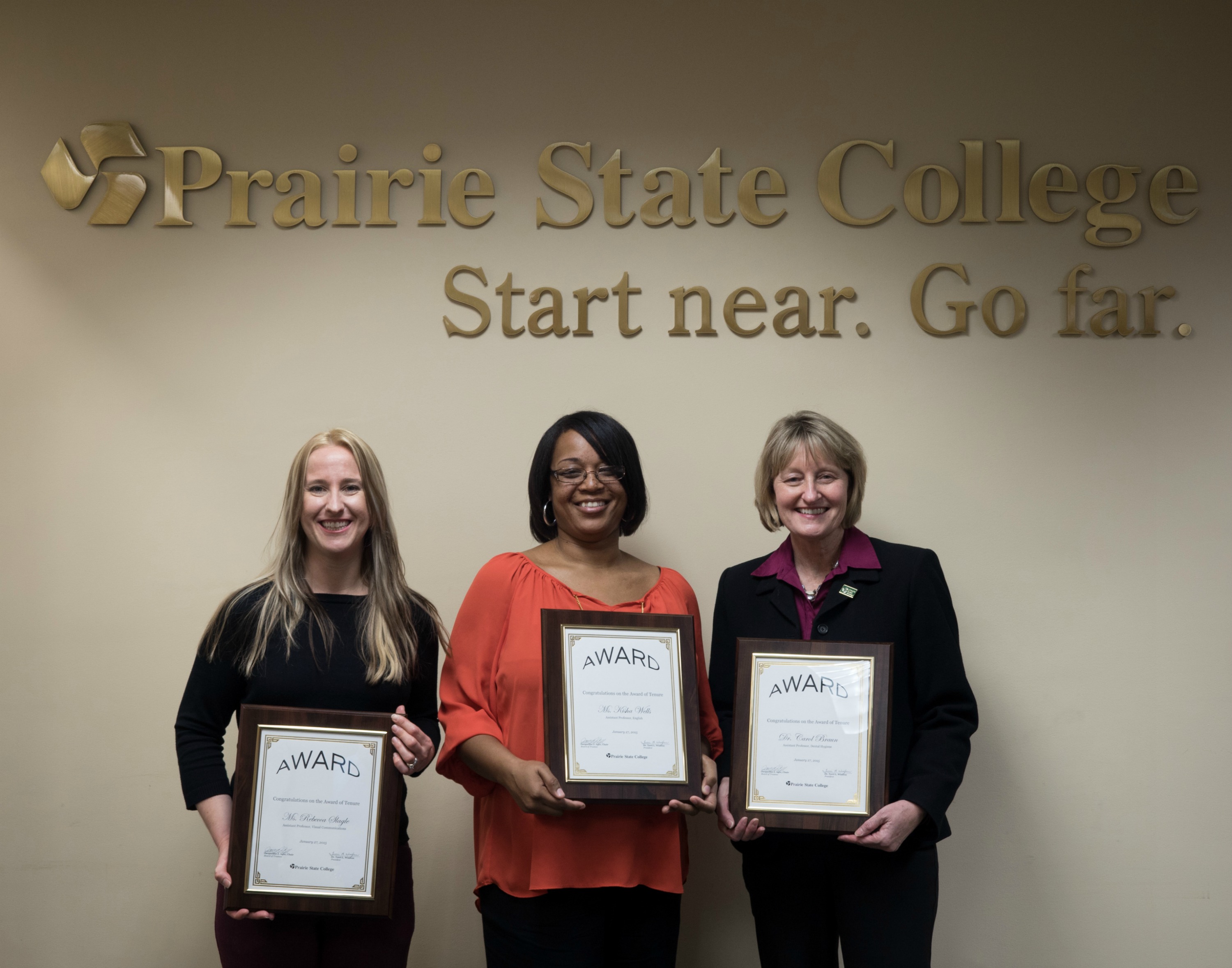 CHICAGO HEIGHTS–(ENEWSFP)–February 9, 2015. Prairie State College (PSC) recently announced that four faculty members have met the college's expectations for tenure, including commitment to student success, collaboration with their peers, and dedication to the college's mission and core values.
Receiving tenure, effective August 2015, are Dr. Carol I. Braun, assistant professor of dental hygiene; Dr. Natalie J. McGathey, assistant professor of mathematics; Rebecca L. Slagle, assistant professor of visual communications; and Kisha M. Wells, assistant professor of English.
Braun joined the PSC adjunct faculty in 2006, and was named a full-time faculty member in 2012. Before coming to PSC, she was a dentist with Dr. L. D. Petreikis and Associates in Hickory Hills. Before that, she was an examining dentist/dental hygienist for Orland Park Dentistry for Children in Orland Park. She has a Bachelor of Science in Biology from Illinois State University and a Doctor of Dental Surgery from Loyola University School of Dentistry.
McGathey joined the PSC faculty as an assistant professor in 2012, after serving as an assistant professor of mathematics at Purdue University North Central in Westville, Ind. Before that, she had been a research assistant, teaching assistant, and then lecturer at the University of Illinois – Chicago. McGathey has a Bachelor of Science in Mathematics from Lewis University and an M.S. and PhD. In Mathematics from the University of Illinois – Chicago.
Slagle came to PSC as an adjunct instructor in 2009, and was named to the full-time faculty in 2012. Before coming to PSC, she was an independent multimedia designer. Slagle also was a graphic designer for Flossmoor Station Brewery and Restaurant and completed a graphic design internship with Williams/Gerard Productions. She has an Associate in Applied Science from PSC, a Bachelor of Fine Arts from the School of the Art Institute of Chicago and a Master of Fine Arts from Governors State University.
Wells came to PSC as an adjunct instructor in 2006, and was named to the full-time faculty in 2012. Prior to joining the PSC faculty, she had been a student teacher in the English Department at Southern Illinois University, an adjunct professor of developmental writing with Richard J. Daley College in Chicago and an adjunct professor in the Liberal Arts Department at Moraine Valley Community College. She has a Bachelor and Master of Arts in English from Southern Illinois University.
Vice President Dr. Marie Hansel, dean of faculty, says the candidates were selected from a highly qualified pool of candidates during the hiring process, and were mentored and tested to fitness by the tenure process. Elements of the tenure process include review by a peer committee of tenured faculty, student evaluations, deans' reviews, and classroom visits. Prior to being awarded tenure, the faculty candidates also prepare an extensive teaching portfolio.
"PSC only tenures outstanding and exceptional faculty members because of our tenure process," she said. "Among community colleges, the PSC tenure process is gold standard. I am very proud of the achievement of tenure by these faculty members," she added.
PSC President Dr. Terri Winfree said, "we are truly fortunate to have such a great group of faculty join the tenure ranks at Prairie State College. I am impressed with the high level of professionalism and expertise this group brings to the classroom. Our students will benefit by learning from these highly esteemed professors."
The faculty members were recognized during the January Board of Trustees meeting, held Jan. 27. The meeting was followed by a reception honoring the tenure recipients.
"These four individuals are a real testament to the high caliber faculty PSC employs to support student learning," said PSC Board of Trustees Chair Jacqueline Agee. "I am proud to be part of an institution that recognizes such great instructors and rewards them for their successes."
Source: www.prairiestate.edu