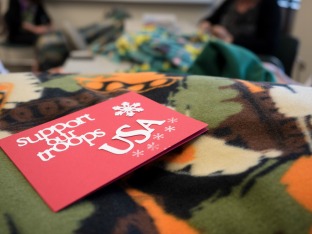 CHICAGO HEIGHTS–(ENEWSPF)–November 17, 2014. Veterans are supported and celebrated on Veterans Day and every day at Prairie State College (PSC).
Because of the generosity of PSC staff, faculty, students, administration, and community members, residents of the Manteno Veterans Home will be beneficiaries this holiday season of the nearly year-long "Knits for Vets" project at the college.
Launched by then PSC faculty member Sarena Lee-Schott, now director of developmental education at Joliet Junior College, the project began as a way to provide veterans in the area with items the Department of Veterans Affairs (VA) is not required to provide.
According to Dr. Loretta Kucharczyk, director of the first year experience at PSC, who became co-chair of the project with Schott in February 2014 and then took the reins from Schott when she left PSC, the project quickly grew as people expressed a desire to help veterans in any way they could. Whether knitting, crocheting, tying knots, buying supplies or simply donating money to the cause, nearly 80 people throughout the college and beyond have taken part in the project in some way.
Kucharczyk says that many people don't know the costs associated with a project like this, and she's sometimes pleasantly surprised by the people that pitch in to help, including a 94 year-old woman who has crocheted a dozen afghans for the project.
"She can't afford the yarn, but she can crochet," Kucharczyk said. "So, we just get the supplies to her, and she gives generously of her time and talent to support the veterans."
Among the additional supporters are the members of the PSC Foundation board, who generously supported a special funding request.
"We actually only asked for $500, but presented them $700 in bills," Kucharczyk said. "To my surprise, when they saw the total, they agreed to pay the full amount!"
Kucharczyk added that in another instance, while shopping one day for supplies, a complete stranger in line asked what her project was. When Kucharczyk told her, the woman reached into her purse and made a donation to the project right then and there.
"When people see what we are doing, they really want to help," she said.
The goal of the project is to provide each one of the more than 280 residents of the home with at least one homemade item and one homemade holiday card this year. Kucharczyk says the group has well exceeded that goal. To date, the project inventory contains 120 knitted or crocheted lap afghans, 132 homemade fleece blankets, eight homemade fleece lap blankets, three full-size afghans, 55 knitted or crocheted hats, 12 knitted or crocheted scarves, nine knitted or crocheted hat and scarf sets, and 10 pair of knitted or crocheted fingerless gloves. The donations and volunteers just keep coming in, she added.
Kucharczyk says the success of the project would not have been possible without the support of PSC President Dr. Terri L. Winfree. "She generously allows staff members one hour a month to work on the project, which she doesn't have to do. Without those important, collaborative hours, we would never have been able to meet our goal."
In addition to the Knits for Vets project, PSC also holds an annual collection of personal items not supplied by the VA for the Manteno Veterans Home residents. This year, the Student Veterans Club is collecting soap, shampoo, lotion, perfume, cologne, dental floss, shaving cream and razors. Added to last year's collection was special gift bags specifically to honor female veterans. Among the items that will be collected are large latching necklaces, bracelets, clip-on earrings, scarves and more. The veterans also will each receive a toothbrush, toothpaste and mouthwash.
Veterans are supported throughout the year at PSC. Student veterans are eligible for early registration, in-district tuition rates (regardless of where they live), and one on one assistance navigating college life. These services extend to all service members, regardless of when they served or whether it was active, reserve, or National Guard component. Whether an individual is a new student, returning student, or deployed on active duty, PSC offers assistance so veterans can achieve their academic goals.
For more information on the services PSC offers to veterans, to donate or volunteer for the Knits for Vets project, or to contribute to the annual collection of personal items for the Manteno Veterans Home residents, contact the PSC Student Veterans Center at 708-709-3567 or [email protected]
Source: prairiestate.edu