CHICAGO HEIGHTS–(ENEWSPF)–October 23, 2014. May 2014 Prairie State College (PSC) graduate Natasha Wallace recently was named the 2014 winner of the Dr. James H. Griffith Community Service Award at PSC. She received the award during the September meeting of the PSC Board of Trustees.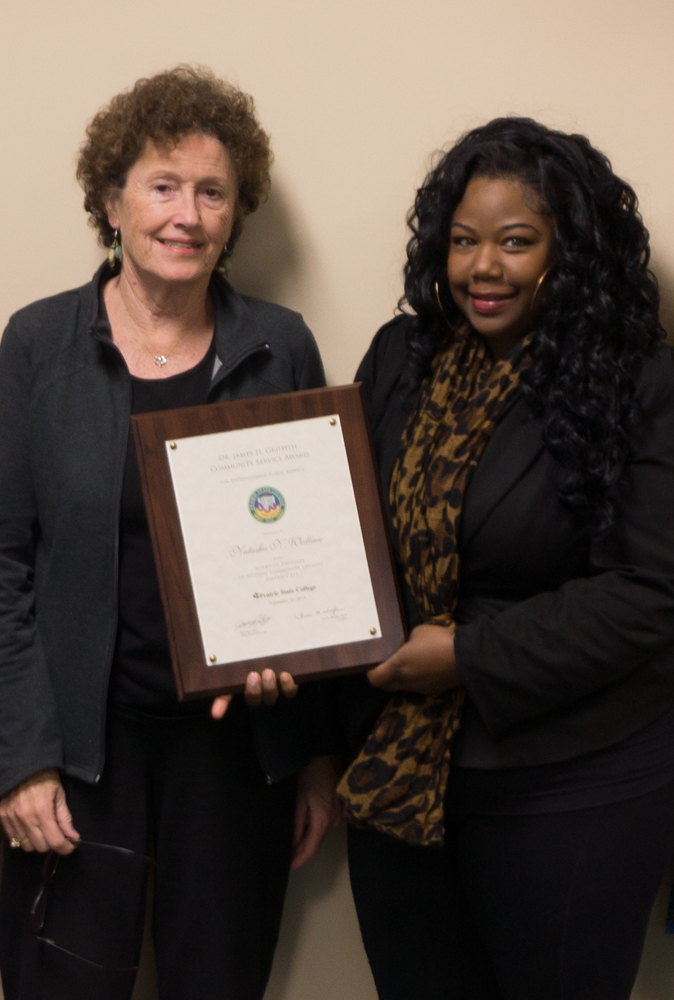 The award is named after the former trustee, who served on the PSC Board of Trustees for 25 years. It is intended to recognize a person or group at PSC who has contributed in an extraordinary way to the community.
As a student at PSC, Wallace was president of the Black Student Union and the program director for the Student Government Association. Wallace participated in volunteer activities both on and off campus. On-campus contributions included helping with the nature preserve clean up during Earth Week, participating in the "Tailgate for Scholarships" event, and helping sign up students to be organ and tissue donors after PSC partnered with the Secretary of State's Office for its "Be a Hero" campaign. She participated in the Walk of Hope by raising money at club fundraisers and bringing fellow club members to be part of the walk. Off campus, she has volunteered with the South Suburban Humane Shelter and Restoration Ministry in Chicago Heights.
"Natasha always reached out to help everyone both on and off campus," said PSC Coordinator of Student and Campus Life Helen Manley, who nominated Wallace for the award. "She was well respected by her peers and a great role model. She had a very busy schedule, but found time to do something that would help someone else, and always with a smile on her face.
"She is very genuine. Words cannot describe her generosity and commitment to others," Manley continued. "Prairie State College and the community have benefited from her efforts and she is very deserving of this award."
Wallace studied pre-pharmacy at PSC, and plans to continue her pharmacy studies at Chicago State University.
Source: prairiestate.edu