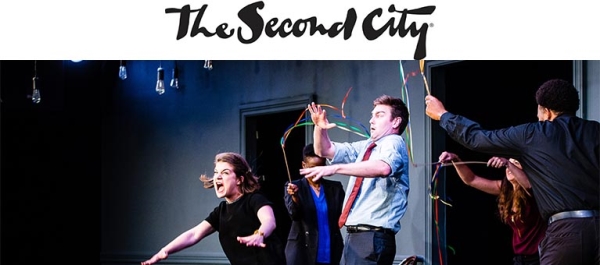 The Second City Blue Company's Latest Revue is Screwy Fun
University Park, IL –(ENEWSPF)—September 25, 2018
You know The Second City by the many famous faces you see on TV, from Tina Fey and Amy Poehler, to Mike Meyers, Steve Carell, and Dan Ackroyd. Now, meet the next generation of comedy greatness when The Second City's Blue Company brings 'Made in America: Some Assembly Required' to Center for Performing Arts at Governors State University on October 6 at 8 p.m.
A certified American comedy institution since 1959, The Second City's laughs are 100% USA-made in this latest take on our great, big dysfunctional nation! The lauded company is sending satire down the conveyor belt and celebrating what makes us all tick in a hilarious revue that will leave you breathlessly ready to face the future…and all its loose screws.
Fresh, fast and always spectacularly funny​,​ The Second City is celebrating nearly sixty years of producing cutting-edge satirical revues and launching the careers of generation after generation of comedy's best and brightest.
"We have a fresh new cast that really represents what a new America looks like. They've taken old material that was politically topical in the last century and made it work for a new political climate pushing the point that history tends to be cyclical, and this is ripe for humor and satire," says Molly Todd Madison, Director of The Second City's National Touring Company.
No topic is off limits. This cast of six believes in equal opportunity, so audience be warned, you are not immune. Political aficionados will be pleased to see that no sides are taken, and the cast offers a fearless and witty point-of-view. From race and gender, to political sex scandals and the cyclical nature of the beast, audience members will leave with a renewed sense of optimism.
Tickets for The Second City are $28 and can be purchased:
Online here
By phone at 708-235-2222.
At the Box Office, 1 University Parkway, University Park, IL
Hours: Monday- Friday 10 a.m. to 4 p.m. & 2 hours prior to all performances.
Discounts are available for students, children, seniors 65+, groups of 10+, and patrons purchasing three or more shows. Like us on Facebook  @centeratgsu for updates on events, offers and more. Share your experience at the Center on Instagram #govstatearts. Parking is free. For best GPS directions, use the location search term "Governors State University."
Center for Performing Arts thanks our other generous partners, funders and individual contributors including the Illinois Arts Council, a state agency.
##
Located at Governors State University, Center for Performing Arts provides dynamic entertainment and edutainment experiences for all, serving over 50,000 patrons annually.
Source: www.govstate.edu