By Chaffin Mitchelle, Staff Writer for AccuWeather.com
AccuWeather-(ENEWSPF)- AccuWeather reports Hurricane Harvey's catastrophic damage has left thousands displaced and in need throughout southeastern Texas.
If you would like to help those affected by the storm, here's what you should keep in mind.
Monetary donation
(Donations made through the AccuWeather.com page are going to United Way of Greater Houston to help Hurricane Harvey victims in Houston and outlying areas. Donations facilitated through Centre County United Way.)
Food, clothing and supplies might be the first thing people think to donate; however, cash donations are the best. When items are donated, volunteers have to divert their attention to separating, distributing and storing.
"Monetary donations are the most flexible and can be used immediately in response to a crisis," Divisional Communications Director of the Salvation Army Dulcinea Kimrey said.
It allows the organization to purchase exactly what is needed, when it is needed, Kimrey said.
"Cash gives relief organizations the means to procure supplies near the affected area, which cuts down on transportation time and cost," Kimrey said.
Make sure to send money to a reputable charity. Check if the charity is trustworthy by contacting the Better Business Bureau's (BBB) Wise Giving Alliance.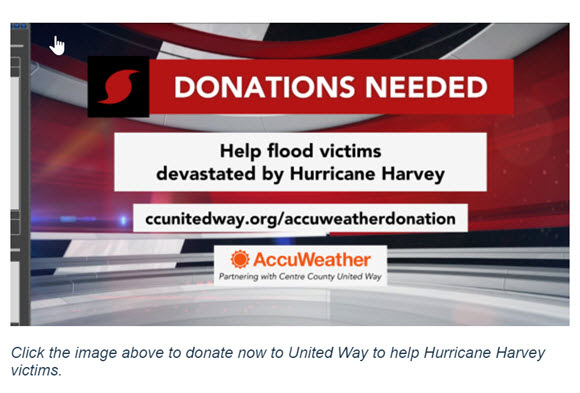 Stay clear of the affected areas
It is dangerous to go to the site even in the immediate aftermath. People rushing to the site can cause problems. Interstates can get clogged with more traffic, gasoline supplies could be diminished and emergency personnel can be hindered from properly responding.
Instead, find a way to donate money that could provide a shelter or a relief supply kit.
Offer housing
Airbnb, a popular online housing app, has a disaster response program. It allows people to find a house or a room during or after a disaster like Harvey. The urgent accommodations tool allows users to offer their nearby homes for displaced victims.
This allows victims who may have been flooded out of their home a nice, safe place to rest.
Volunteer
To make operations run smoothly, make sure to have training or register to be a volunteer. Manual labor is not the only support needed. Volunteers are able to help with communications, medical, office, human services, damage assessment and labor support.
"We are working to transport 200 animals from San Antonio, to create more space for animals coming from the battered and deluged areas. We are also working with the Houston Humane Society and other local groups to relieve the pressure on overcrowded shelters," Wayne Pacelle, president and CEO of The Humane Society of the United States, said.
Give blood
During emergencies and disaster situations, the blood supply might run low due to the increased quantity needed. Donating blood helps to save lives in the emergency room.
The Red Cross urges eligible donors to give blood or platelets to help ensure life-saving blood products are available for trauma patients and others with serious medical needs.
"It's the blood products on the shelves that helps save lives in an emergency," said Trish Sablitz, Red Cross director of Donor Recruitment for the Connecticut & Massachusetts Blood Services Region. "When seconds matter, having a readily available blood supply is critical to trauma patient care."
Recovery lasts longer than a few days, and disaster areas can take years to recover fully. If donations run out within the first few days, volunteers no longer have the resources and funds to help.