Mr. Romney and Bain Capital Invest $23 Million in a Brutal Sweatshop in China
Pittsburgh, PA–(ENEWSPF)–September 28, 2012. ‎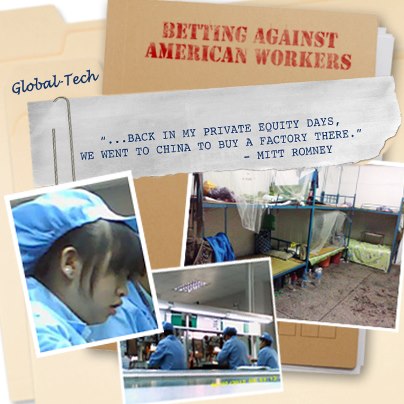 "Yesterday afternoon the Institute released a new report about the Global-Tech factory in China, a true sweatshop, in which Romney and his investment company, Bain Capital, invested some $23 million. Please share widely." — Charlie Kernaghan
Click Here to view the whole report
The report contains the following information:
√ Executive Summary
√ Mr. Romney and Brookside Invest up to $23 Million in Global-Tech
Sweatshop in China
√ Mr. Romney Was Investing in the Outsourcing of U.S. Jobs and
Production
√ Mitt Romney is Responsible
√ Misery Updated: Brutal and Illegal Sweatshop Conditions Persist at Global-Tech in China
Grueling 105- to 112-Hour Work Weeks
Below Subsistence Wages
Child Labor Persists
Primitive and Filthy Dorms at Global-Tech
The Workers' Cafeteria Is Beyond Filthy: Barely Edible and Frequently Rotten Food
Global-Tech Workers Have No Hope for Their Future And See No Possibility of Change
Workers Can Easily Join the Global-Tech Factory, But Getting Out Is Another Story
Global-Tech Workers Also Cheated of Healthcare and Other Benefits
Gross Violation of Guangdong Province's Regulations on Payment of Wages
Would You Like Your Son or Daughter to Work at Global-Tech?
Click Here to view the whole report
Global-Tech factory in Dongguan, China.
Twelve workers share each primitive and filthy dorm room. To wash, they use small plastic buckets to fetch water, which they splash on themselves, standing next to the toilet in the tiny bathroom.
| | |
| --- | --- |
| | High school students forced to work 15 to 16 hours a day, seven days a week. |
| | |
| --- | --- |
| Student interns, sitting on backless stools hunched over their assembly line, must complete the same operation every 13 seconds, non-stop, cleaning 3,920 circuit boards in 14 hours. | |
Source: usw.org