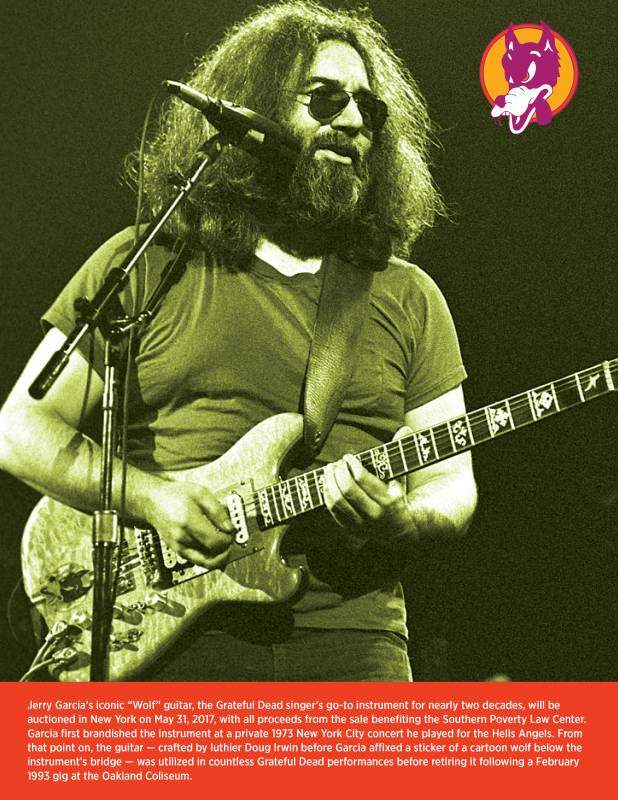 NEW YORK—(ENEWSPF)—June 2, 2017.  The Southern Poverty Law Center will benefit from the $1.6 million raised at an auction at Brooklyn Bowl in New York City Wednesday night.
Jerry Garcia's famed Wolf guitar was offered by an unnamed supporter of the SPLC and was purchased by Brian Halligan, chief executive of HubSpot and co-author of Marketing Lessons from the Grateful Dead: What Every Business Can Learn from the Most Iconic Band in History.
Halligan's pre-premium bid of $1.6 million was anonymously matched, so the SPLC will receive a total of $3.2 million for its work fighting hate and discrimination.
Halligan is a self-proclaimed "Deadhead" who journeyed with the band for years. He doesn't plan to sell or trade the instrument but said he would lend it out for special performances on occasion. He told Rolling Stone that the auction gave him the opportunity to "indulge two passions of mine at the same time: social justice and the Grateful Dead."
"We're deeply touched that people want to take this kind of action in light of the current challenges facing our country," said SPLC President Richard Cohen. "The act of donating such a prized possession is extraordinary and will significantly help our work over the next four years as we fight to protect the ideals of our democracy."
Doug Irwin built the customized guitar in 1973, and Garcia first played it at the Pirates Ball in New York City. He last played it in 1989 during a concert with the Grateful Dead at the Oakland Coliseum Arena. The guitar takes its name from an inlay of a wolf sticker Garcia initially placed on it just below the tailpiece.
Last night's event featured an all-star concert coordinated by well-known drummer Joe Russo, which was dubbed "Joe Russo's Friends With Benefits." Guitarists Neal Casal, Scott Metzger, Tom Hamilton and Cass McCombs each played Wolf during the concert, and other performers included John Scofield, Nels Cline, Jonathan Goldberger, Dave Harrington, Coachemea Gastelum, Billy Martin, Erik Deutsch, Dave Dreiwitz, Jon Shaw, Eric D. Johnson, Delicate Steve, and Alecia Chakour.
Elden Rosenthal, an SPLC board member who attended the event, said the atmosphere was "electric" when Russo plugged in Wolf.
"We are grateful to everyone who worked tirelessly to make last night such a special and fun event, but we especially want to thank Peter Shapiro with Brooklyn Bowl and Arlen Ettinger of Guernsey's Auction," Cohen said.
Source: www.splcenter.org