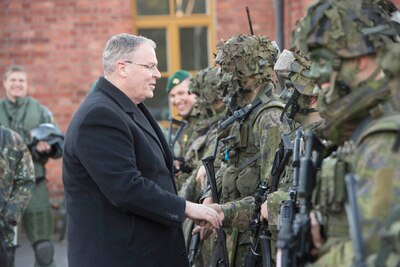 Deputy Defense Secretary Bob Work greets Finnish defense forces in Helsinki, Oct. 6, 2016. En route to Finland, Work commented on what he called a "humanitarian catastrophe" in Aleppo, Syria. DoD photo by Navy Petty Officer 1st Class Tim D. Godbee
ABOARD A MILITARY AIRCRAFT–(ENEWSPF)–October 7, 2016
By: Lisa Ferdinando
The actions of the Syrian and Russian governments against the besieged Syrian city of Aleppo are "incomprehensible," Deputy Defense Secretary Bob Work said yesterday.
"What's happening in Aleppo is a humanitarian catastrophe," Work said in an interview with DoD News as he traveled to Finland. "We hold the Syrian regime and Russia responsible for it, primarily."
Russia and Syria have subjected the city to relentless attacks, including bombing hospitals, innocent civilians — first responders among them, he said. Those actions are all part of a "very cynical play essentially to make the place uninhabitable for humans and force the capitulation of the opposition there," he added.
"The indiscriminate bombing of humans and the targeting of hospitals and the targeting of first responders is certainly beyond the pale of any civilized nation," he said. "Our hearts go out to the people in Aleppo."
The United Nations says 275,000 people remain trapped in the city.
'Very Saddened' by Ceasefire Collapse
As far as any possible next step for the United States with regard to Syria is concerned, Work pointed out that Secretary of State John Kerry is exploring what options might be available. In September, Kerry negotiated with Russia a ceasefire in Syria that broke down days later.
"We're all very saddened on the collapse of the ceasefire," Work said.
The United States went into the negotiations with "eyes wide open," Work explained, saying it was not an attempt based on trust, but rather for certain conditions to be met.
"It was clear that Russia could not deliver … [Syrian President Bashar Assad] regime ['s cooperation,] as they promised they could," he said. "It is unfortunate that we were unable to make it work."
Questions on Advanced Air Defense System
Work questioned why Russia would need the S-300 advanced air defense system in Syria.
"The opposition doesn't have a lot of fighter aircraft, and therefore, we would ask: If Russia is really serious about going after terrorists, why they would be sending a system like this into the fight?" he said.
U.S. forces targeting the Islamic State of Iraq and the Levant in Syria have the right to respond if threatened, the deputy secretary said.
"As always, U.S. forces, wherever they operate, have the right of self-defense," Work said. "We would hope that the injection of this type of advanced system, which again, will have no bearing on the fight against ISIL, leads to no accidents or problems."
Follow Lisa Ferdinando on Twitter: @FerdinandoDoD
Related Article:
Obama: Russia Must Drop Support for Assad to End Syrian Civil War, ISIL
Source: http://defense.gov