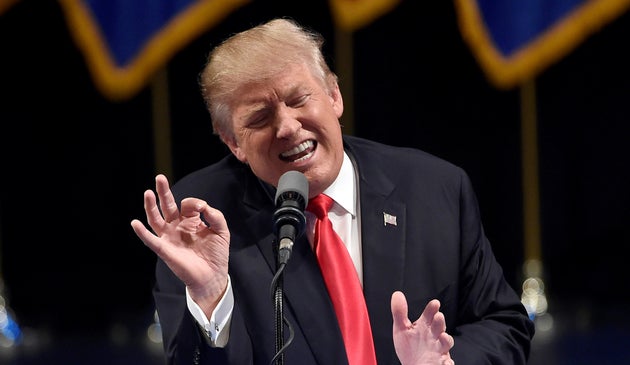 NEW YORK–(ENEWSPF)–October 4, 2016.  Donald Trump and his surrogates claim that he's "smart," "brilliant," and a "genius" for not paying taxes that would support our veterans, education and healthcare system. But no one's buying it.
As Secretary Clinton said just yesterday, "What kind of genius loses a billion dollars in a single year?" Not only has the latest tax bombshell exposed Trump's failed record as a businessman–it's also shone a light on what the American people and editorial boards across the country think of someone who hasn't paid their fair share, and is proud of it.
Public polling paints a clear picture: Americans don't view dodging taxes as "genius." It upsets them, and flies in the face of our shared understanding of what's fair.
Yesterday's CNN poll shows Americans overwhelmingly disagree with the Trump campaign's characterization of not paying taxes as "genius." Respondents almost universally (86%) say that paying taxes is a civic duty, including 79% of his own supporters.
Asked which statement they agree with more – that it's an American's civic duty to pay their fair share of taxes or that taxes are an unnecessary burden that people should try to minimize, 86% picked taxes are a "civic duty"
The majority (61%) of Americans think the wealthy do not pay enough in taxes
And in a poll last year, an overwhelming majority of respondents (79%) said it bothers them that some wealthy people don't pay their fair share of taxes
In fact, most Americans see their obligation to pay a fair share of taxes as a moral issue
Seventy-one percent called not reporting all income on taxes "morally wrong." Most troubling for Trump, Republicans are the most likely to cast tax obligations in moral terms – 78%.
Editorial boards across the country have called out Trump's apparent free-loading.
The News & Observer (North Carolina): Trump isn't 'smart,' he's a freeloader
"If he doesn't pay federal income taxes, then who does pay the bill for all the services and protections the federal government provides? Apparently, it's up to the little people, and presumably stupid rich people, to pay for the national defense, education, environmental protections, emergency relief and so much else that is vital to the functioning of a safe and stable nation."
Inquirer (Philadelphia): Tax-dodge tale about Trump still doesn't tell whole story
"Donald Trump's two most well-known lackeys – Gov. Christie and former New York Mayor Rudy Giuliani – believe that not paying federal income taxes somehow makes their choice for president a genius. But in discussing Trump's ability to dodge income taxes for nearly 20 years, Christie and Giuliani failed to mention his string of business failures in the 1990s, including three bankrupt Atlantic City casinos and the short-lived Trump Airlines."
Milwaukee Journal Sentinel (Wisconsin): Trump's tax history may disqualify him
"If a leading candidate for president is wealthy enough to avoid paying federal taxes altogether, the rest of us working stiffs have a right to know that and vote accordingly. Here's what we know for sure about Donald Trump's federal tax bill: He paid nothing in 1978 and 1979, according to a 1981 report that evaluated his fitness for a casino license in New Jersey, The New York Times reports. He paid zero again in 1984, based on tax court records. In 1991 and 1993, his casinos in Atlantic City were in such bad shape that his losses might have allowed him to avoid taxes those years as well, and, because he could have carried any unclaimed losses forward, perhaps for years later.  Beyond that, we must take Donald Trump's word for it. No thanks."
"This does not show that Trump is "smart," as he claimed during last week's debate. This is not "genius," as Republican Party loyalists claimed.This is not the record of someone with genuine business acumen. It's the record of a con artist who manages to get out of town before the people he stiffed catch up with him.And now Trump is using his appalling financial record to back-stop his boast that after all these years as a tax-dodger he knows how to fix things so people like him will have to pay their fair share."
"Trump in reality may be a lousy businessman for dropping in the neighborhood of a billion dollars in a single year and probably much more than that over several years during the 1990s. Not to mention his boorishness for throwing his so-called business savvy in the face of millions of Americans of lesser means who do pay Uncle Sam every year. Or that it just doesn't seem fair that a man who lives a life of personal luxury as foreign as hieroglyphics to most of us can get away with paying nothing on his 1040."
"Trump was a colossal business failure throughout the 1990s, racking up billions in debt and declaring bankruptcy four times. And he's anything but a populist, given his aggressive use of loopholes for the rich, his failure to pay his debts to contractors and his preying on the lower and middle class with his so-called university."
"Are Americans who pay their taxes stupid? Donald Trump apparently thinks so … Seems not only an admission that he's been tax-free for years now, but also an indictment of normal people across the land, those who work hard for a living and pay their taxes.Trump thinks these people are chumps."
"Paying no taxes when one has the means to do so may be legal, but only in certain 'starve government' conservative and Libertarian circles, is it also honorable or fair. Working class voters who can't hide or shelter income because it comes off the top of their paycheck should decide if they want to pick up Trump's share of the tab for national defense or rebuilding the crumbling infrastructure."
So what have Trump's tax returns shown us? He's no "genius" and he's certainly not a "brilliant" business man.
"Donald Trump on Monday night explained away the steep losses documented on what appear to be pages of his tax returns released by the New York Times over the weekend — which may have helped him avoid taxes for two decades — as evidence of his "talent," "skill, dedication and sheer grit."But tax experts, and the real-estate mogul's documented experience, suggest otherwise."
NPR: Trump's Financial Moves In The '90s: 'Genius' Or 'Colossal Failure'?

"His financial failures were widely noted at the time. In 1990, Newsweek described Trump as "tarnished by marital scandal, mired in debt and negotiating with banks" to salvage his business. It said he was buried under a "hefty $3.2 billion debt." The New York Post mocked him with the headline: "UH-OWE!""
"Abraham Wallach thought he had scored a major career break when Donald J. Trump hired him in 1990 for a senior executive role. Based on Mr. Trump's boasting and gaudy lifestyle, Mr. Wallach imagined he would soon be leading impressive construction projects around the globe. Instead, he found an array of failing enterprises, he recalled on Monday. Many top executives had departed the Trump Organization, and those who remained were often huddled in closed-door meetings with bankers and whispering worriedly among themselves."
"An analysis by Temple University law professor Jonathan Lipson ranked Trump-branded casinos "the worst" among their peers when it came to jobs over a 14-year period. Mr. Lipson, a bankruptcy scholar, found that Trump casinos shed some 7,400 jobs between 1997 and 2010. That works out, on average, to job losses per casino of 900—37% higher than at other Atlantic City gambling venues in the same period."
"This reality, when added to Trump's exploitation of investors, vendors and others, tells us that the real "art" that Trump practices is deception. So far, he has used it to convince investors, vendors and admirers that he's a good business manager despite evidence to the contrary. The presidential campaign is his attempt to complete his ultimate work."
Source: http://hillaryclinton.com