Designation Shows Significance of VA National Cemeteries as Historic Properties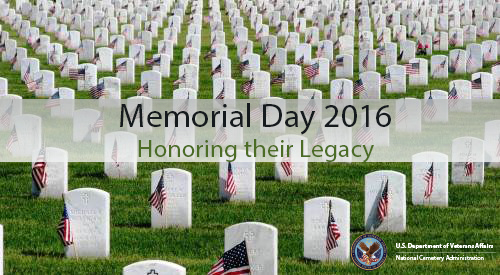 WASHINGTON –(ENEWSPF)–May 27, 2016.   The Department of Veterans Affairs (VA) today announced that the U.S. Department of the Interior has added seven VA national cemeteries to the National Register of Historic Places. The recognition coincides with the national celebration of Historic Preservation Month each May and comes ahead of a weekend of Memorial Day observances at VA National Cemeteries nationwide.
"Over four million Veterans, service members, reservists and family members—of every generation and from every war and conflict, from the Revolution to the Global War on Terror—have been laid to rest in VA national cemeteries. Inclusion in the National Register emphasizes the significance of these seven 1930s-era national cemeteries as hallowed grounds," said Secretary of Veterans Affairs Robert A. McDonald. "This recognition is particularly timely. On Memorial Day, we pay homage to those who placed themselves on the Altar of Freedom for love of country; this is a day for remembrance, reflection and respect – for honoring those who gave all. That is the mission of those who serve in our National Cemetery Administration, a mission they consider a sacred trust with those who gave so much for their country."
The national cemeteries added to the National Register of Historic Places are Baltimore, MD; Fort Bliss, TX; Fort Rosecrans, CA; Fort Sam Houston, TX; Fort Snelling, MN; Golden Gate. CA; and Long Island NY. The listing recognizes the cemeteries established between the World Wars and as the first expansion of the national cemetery system since the Civil War. They also represent the first modern landscape designs created to honor the sacrifice of thousands of Veterans.
The individual cemetery designs are tailored to each location, but together reflect a unity of purpose in their appearance and sentiment. The history of national cemeteries is one of evolving Veterans' benefits, memorialization, politics and planning.
VA has 102 national cemeteries listed in the National Register. This distinction recognizes these national cemeteries as national shrines honoring the Veterans buried there, their historic association with U.S. military history and as an enduring symbol of their sacrifice. In addition,
VA operates 134 national cemeteries and 33 soldiers' lots and monument sites in 40 states and Puerto Rico.
More than 4 million Americans, including Veterans of every war and conflict, are buried in VA's national cemeteries. VA also provides funding to establish, expand, improve, and maintain 100 Veterans cemeteries in 47 states and territories including tribal trust lands, Guam and Saipan. For Veterans not buried in a VA national cemetery, VA provides headstones, markers or medallions to commemorate their service. In 2015, VA honored more than 353,000 Veterans and their loved ones with memorial benefits in national, state, tribal and private cemeteries.
Information on VA burial benefits is available from local VA national cemetery offices, at www.cem.va.gov or by calling VA regional offices toll-free at 800-827-1000.  For more information about the history of VA national cemeteries, visit www.cem.va.gov/history.
For a listing of Memorial Day events taking place at VA national cemeteries nationwide, visit http://www.cem.va.gov/features.asp.
Source: http://www.va.gov