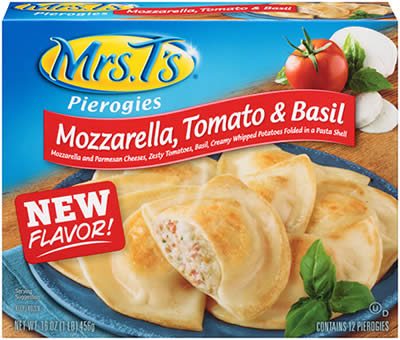 (PHOTO SUPPLIED)
Silver Spring, MD-(ENEWSPF)- On February 27, 2015, Mrs. T's Pierogies, of Shenandoah, PA, announced the voluntary recall of specific lots of its Mozzarella, Tomato & Basil variety of pierogies, due to safety concerns. The affected product was distributed to a limited number of retail customers and is being recalled due to plastic contamination in the product which may be a choke hazard.
The specific product in question is the 16-ounce box of Mrs. T's Mozzarella, Tomato & Basil Pierogies (UPC 4116400042), sold in retail grocery outlets in New England, New York, Pennsylvania, New Jersey, Delaware, Maryland, Washington DC, Virginia and Illinois, and that have the following Best By information:
Product with "Best By 05/20/16"
Product with "Best By 07/15/16"
To date, Mrs. T's has not received reports of any adverse events associated with this issue for this lot and no other varieties or lots of Mrs. T's Pierogies are impacted by this voluntary recall.
The recall was initiated after plastic was found in the filling of the product during production by a Quality Assurance check.
The company notified the U.S. Food and Drug Administration, and is cooperating fully with the agency.
Mrs. T's Pierogies has taken immediate action to voluntarily recall this product in order to ensure the safety of its consumers. Mrs. T's Pierogies is dedicated to providing the highest quality products, and the safety of our customers is our number one priority.
Consumers who purchased this product are welcome to return it to the place of purchase for a full refund, or to contact Mrs. T's Pierogies at 1-800-743-7649 from 8am to 4:30pm EST Monday through Friday.