Washington, D.C.–(ENEWSPF)–April 5, 2012. Yesterday the Center for American Progress convened a panel to discuss the potential ramifications of the Supreme Court decision on the constitutionality of Arizona's S.B. 1070, which among other things requires the police to ask for documentation from anyone they have a reasonable suspicion of being in the country without legal status. The Center also released a policy brief, "Arizona's 'Show Me Your Papers' Law in the U.S. Supreme Court, What's at Stake?", along with a primer on the legal argument in "Arizona v. United States." The paper argues that a ruling upholding the Arizona law could sow deep national division and subvert core American values by effectively authorizing discrimination and profiling. Our legal primer analyzes the four key provisions subjected to the Court's scrutiny in this case, including the legal background and central arguments.
In the policy brief we look at the divisive national impact of restrictive state immigration laws and examine in greater detail the practical consequences of allowing states to implement such laws, including:
Pitting pro-and anti-immigrant states against each other by creating hostile versus welcoming environments for immigrants
Increasing racial profiling and ethnic division by requiring police to make investigative decisions based on appearance, not conduct
Undermining public safety and social cohesion by making immigrant and mixed status families afraid to report crimes, attend school, receive medical assistance, etc.
Creating severe economic harm by driving needed workers and consumers from the states and hurting the states' reputations
Subverting U.S. foreign policy objectives by making foreign nationals and foreign investors feel unwelcome
Unsurprisingly, as we found in "Staying Put But Still in the Shadows," these attrition policies in Arizona and other parts of the country have failed in their objective to make life so harsh for undocumented immigrants and their families that they would "self-deport" to their home countries. People are either staying put and going further underground or are moving to a more welcoming county or state. If the Court gives its blessing to this coordinated "attrition through enforcement" strategy and allows S.B. 1070 and its progeny to be implemented, the nation will return to a time of deep division, likely cleaved once again along regional lines, with some states passing welcoming laws, and others passing restrictive ones. The ruling in this case could have profound implications, not only for the citizens and immigrants living in states with Arizona-style laws but also for the unity of the nation and the preservation of our core values.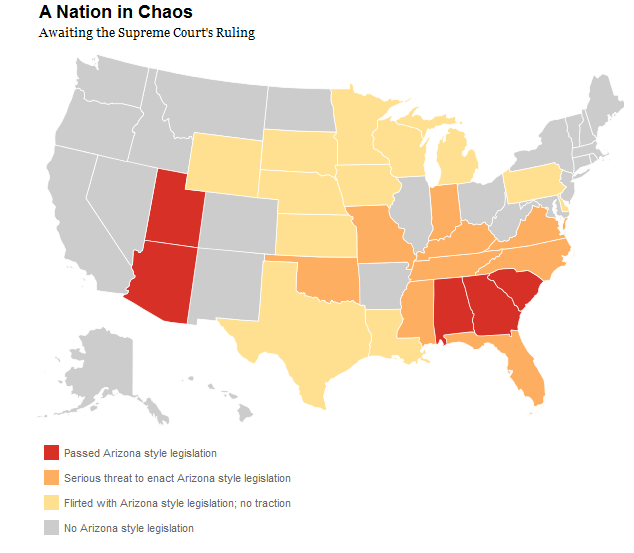 More than just a misguided attempt by the state to assume responsibility for immigration policy, S.B. 1070 represents legally sanctioned racial intimidation. By targeting certain groups of people living within the state based on their appearance, the Arizona law amounts to an ethnically divisive and deeply hostile social policy. It raises the specter of states treating people differently based on the color of their skin rather than the nature of their conduct. And it does so at a time when the face of our nation is changing dramatically and ethnic diversity is becoming the norm—not just in isolated urban pockets but throughout the country.
Read "Arizona's 'Show Me Your Papers' Law in the U.S. Supreme Court, What's at Stake?"
View "Interactive Map: A Nation United or Divided?"
Read "Arizona v. United States: A Primer on the Legal Arguments in Landmark States' Rights Case"
Source: americanprogress.org