Pittsburgh, PA–(ENEWSPF)–April 16, 2012. The United Steelworkers (USW) today joined Democratic National Committee Executive Director Patrick Gaspard in praising Obama administration policies that protect manufacturing jobs and promote economic fairness.

USW International President Leo W. Gerard called attention to Obama's sustained commitment to the manufacturing sector and to policies like the auto bailout that he championed to protect manufacturing. As a result, in addition to 30 consecutive months of continuous economic growth, "we've now created more private sector manufacturing jobs in the last two years than any other time since the mid-1990s," Gerard said.


USW International President Leo W. Gerard links economic recovery to Obama's investment in industry.

Executive Director of the Democratic National Committee Patrick Gaspard discusses the President's proposed "Buffett Rule" calling it "not class warfare, just fair."

Gerard also declared his support for President Obama's proposed "Buffett Rule," which would ensure that individuals making over $1 million a year would pay an effective tax rate of 30 percent.

Gaspard said the proposed rule is necessary to reduce the deficit while the country continues to invest in manufacturing and industrial jobs. It would keep "billionaires and millionaires from gaming the system," he said.

Because of the president's commitment to manufacturing, job protection and economic parity, the USW's leadership has pledged to support the president in his reelection campaign.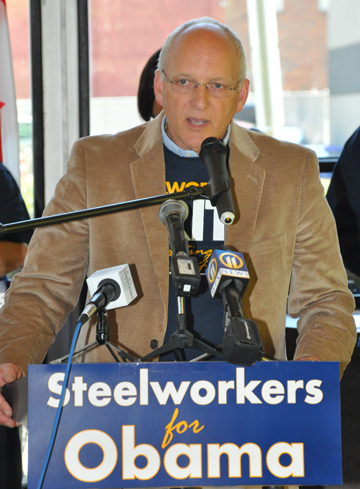 Bob Prah, president of USW Local 1557, details how economic stimulus programs helped his fellow union members at Clairton Works.
Source: usw.org