Washington, DC–(ENEWSPF)–January 18, 2013. Joining the list of speakers at Beyond Pesticides' 31st National Pesticide Forum are Tyrone Hayes, Ph.D., the biologist best known for his research on the effects of atrazine on frogs, and Isaac N. Pessah, Ph.D., the Chair of the Department of Molecular Biosciences at the University of California, Davis School of Veterinary Medicine. The conference will focus on cutting edge public health science, building resilience in our food system and communities, and bringing ecosystems back to balance, and will incorporate regional issues such as water and food sovereignty in the Southwest. The National Forum provides an opportunity for grassroots advocates, scientists, and policy makers to interact and strategize on solutions that are protective of health and the environment. The 31st National Pesticide Forum, Sustainable Families, Farms and Food: Resilient communities through organic practices, will be held April 5-6, 2013 (Friday afternoon and all day Saturday) at the University of New Mexico in Albuquerque, NM.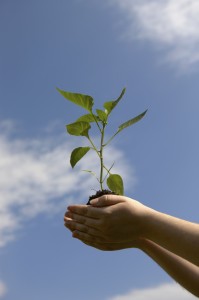 The conference is convened by Beyond Pesticides, La Montanita Coop, and the University of New Mexico Sustainability Studies Program, and co-sponsored by local, state and regional public health and environmental organizations, including the New Mexico Department of Agriculture's Organic Program, Amigos Bravos, Our Endangered Aquifer Working Group, Farm to Table, Holistic Management International, and others to be announced. Contact us if your organization is interested in joining as a co-sponsor.
Featured Speakers
Tyrone Hayes, Ph.D., has an undergraduate degree in organismic and evolutionary biology from Harvard University in a Ph.D. in integrative biology from the University of California, Berkeley, where he currently serves as a professor. He has published more than 40 papers, over 150 abstracts and has given more than 300 talks on the role of environmental factors on growth and development in amphibians. Through his research, he states, "I have come to realize that the most important environmental factors affecting amphibian development are synthetic chemicals (such as pesticides) that interact with hormones in a variety of ways to alter developmental responses."
Isaac N. Pessah, Ph.D., is Professor and Chair of the Department of Molecular Biosciences at the University of California, Davis School of Veterinary Medicine. Dr. Pessah is a member of the Center for Neuroscience and the M.I.N.D. Institute. He is currently Chair of the Graduate Program in Pharmacology and Toxicology, and Director of the National Institute of Environmental Health Sciences (NIEHS) Center for Children's Environmental Health and Disease prevention. He is a senior member of the NIEHS Center of Excellence in Toxicology (Leader of the Neurotoxicology Research Core) and the Superfund Basic Research Program. Among the research that Dr. Pessah has published, he has co-authored Triclosan impairs excitation–contraction coupling and Ca2+ dynamics in striated muscle, as well as Tipping the Balance of Autism Risk: Potential Mechanisms Linking Pesticides and Autism.
Matthew Chew, Ph.D., is an Assistant Research Professor in the School of Life Sciences at Arizona State University School of Life Sciences. His research interests include invasive species ecology, restoration ecology, rangeland management, and biology. He is the author of numerous publications including, The Monstering of the Tamarisk: How Scientists Made a Plant into a Problem, and co-authored the The Rise and Fall of Biotic Nativeness: A Historical Perspective.
Bruce T. Milne, Ph.D., is the Director of the Sustainability Studies Program at the University of New Mexico and a Professor of Biology. The Sustainability Studies Program (SSP) at UNM spawns experiential learning, research, and service activities to implement practical solutions for a sustainable future for the bioregion, the Southwest, and the planet. Dr. Milne's research focuses on ecology, landscape ecology, scaling, sustainability, and foodsheds.
Joel Forman, MD, is an Associate Professor of Pediatrics and Community and Preventive Medicine at Mt. Sinai Hospital, New York City. Dr. Forman is currently a member of the American Academy of Pediatrics (AAP) Committee on Environmental Health and a member of the CDC Lead in Pregnancy Workgroup. Dr. Forman is also one of the lead authors of the recent AAP report, Organic Foods: Health and Environmental Advantages and Disadvantages published in the journal Pediatrics.
Andrew Kimbrell, Executive Director of Center for Food Safety, is a public interest attorney, activist and author. He has been involved in public interest legal activity in numerous areas of technology, human health and the environment. He established the International Center for Technology Assessment (CTA) in 1994 and the Center for Food Safety(CFS) in 1997, and has written several books and given numerous public lectures on a variety of issues. He has lectured at dozens of universities throughout the country and has testified before congressional and regulatory hearings.
Other featured speakers, including the Beyond Pesticides Board of Directors, will be added shortly.
Performance Friday Night: A Sense of Wonder -followed by panel discussion
A Sense of Wonder, which is written, produced, and performed by Ms.Kaiulani Lee, is the story of Rachel Carson's love for the natural world and her fight to defend it. It is the story of the extremely private Ms. Carson thrust into the role of controversial public figure with the publication of Silent Spring. This powerful one-woman, two-act play brings to life on stage Ms. Carson's passionate message on the adverse health and environmental effects of pesticides, just as these toxic chemicals were becoming an increasingly common part of modern life. Kaiulani Lee brings to the writing and acting of A Sense of Wonder and Can't Scare Me, the story of Mother Jones more than 35 years of experience in theatre, film and television. Ms. Lee has starred in over a dozen plays on and off-Broadway. She has been nominated for the Drama Desk Award on Broadway and has won the OBIE Award for outstanding achievement off-Broadway.
For more information on the program, including a full list of speakers and registration information, please see www.beyondpesticides.org/forum.
Source: http://www.beyondpesticides.org