Washington, DC–(ENEWSPF)–August 8, 2012. Residents of a large condominium in New Jersey have won their fight against the use of pesticides on the complex's lawn. The homeowner's association agreed with residents' pleas to alter its treatment of lawns, instituting an integrated pest management (IPM) policy to avoid using toxic pesticides.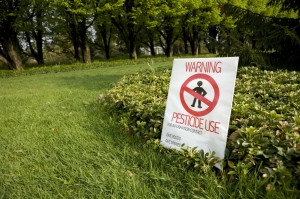 In June, several residents at the Society Hill complex in Bernardsville, New Jersey, went public in challenging their homeowners' association's decision to use pesticides for lawn care, saying the chemicals have left their children with skin rashes, have sickened, and even killed family dogs.
They took their pleas to the Environmental Commission, the Township Committee, The Bernardsville News and even New Jersey 101.5 FM radio. Officials from the Environmental Commission said they could only encourage, not force, private homeowner associations to use organic lawn treatments.
Last week, the residents won their battle when the association decided to enact a new pesticide policy. The policy applies integrated pest management (IPM) that avoids pesticides when possible. The association plans to put IPM in all future maintenance contracts so as to maintain consistency. IPM, as defined by Beyond Pesticides, is a program of prevention, monitoring, and control that offers the opportunity to eliminate or drastically reduce the use of pesticides, and to minimize the toxicity of and exposure to any products that are used. A well-defined IPM plan does this by utilizing a variety of methods and techniques, including cultural, biological and structural strategies to control a multitude of pest problems. The association for Society Hill I, which comprises 444 of the 812 homes in the development, made the announcement at a July meeting, according to Beverly Petrallia, who led the fight against the pesticides. "We're all very happy for the pets, the children and even the elderly," Ms. Petrallia said.
The association had dropped its use of pesticides some years ago but began using them again in the last couple of years, reportedly to cut costs, triggering an outcry from several residents. Residents believe that the death of dog from cancer in January 2008 was caused by pesticides used on the property. Pesticide use is also suspected in children's rashes, shortness of breath, and tumors in pets, as well as one resident's swallowing difficulties.
The residents fought a hard battle. The Bernard's Township committee, which was seen as a potential ally for condo residents because of a 2008 municipal policy that prohibits the use of pesticides in public parks, declined to get involved, saying the residents needed to address the issue with their elected board members. The 2008 policy requires that parks are maintained with native planting, manual weed control, and organic agents. New Jersey has about 30 communities and townships with pesticide-free policies.
According to resident at the condo, the product Trimec 992 was routinely used on the lawns. A broadleaf herbicide that controls dandelions and weeds, Trimec 992 contains the active ingredients, 2,4-D, dicamba and mecoprop (MCPP), the most prevalent combination formulation of 2,4-D. There is considerable scientific evidence supporting the fact that chemicals with common toxicological modes of action have a resulting toxicity that is additive or synergistic, meaning that together they are more toxic than they are alone. Read "Synergy: The Big Unknowns of Pesticide Exposure."
Assessments indicate that dicamba has the potential for causing adverse effects to endangered birds, mammals, and non-target plants. Chronic risk assessments indicate that mammals are at risk for developmental/reproductive effects. Mecoprop is classified as "suggestive evidence of carcinogenicity, but not sufficient to assess human carcinogenic potential." 2,4-D, one of the most widely used herbicides, is neurotoxic, mutagenic and genotoxic, and poses serious risks to human health. It is also an endocrine disruptor and has been linked to non-Hodgkin's lymphoma. Unfortunately, 2,4-D's contamination with dioxins has long been a part of 2,4-D's history. While recent manufacturing advancements have reduced dioxin levels in 2,4-D, the threat of dioxin contamination is still very much a consequence of 2,4-D use. The National Cancer Institute and other sources have also reported an association between exposure to lawn chemicals, like 2,4-D, and adverse impacts in dogs and several studies have found an association with an increased risk of urinary bladder cancer and canine malignant lymphoma. Read Beyond Pesticides' Pesticides and Pets factsheet.
While several municipalities around the country, like those in New Jersey, have adopted pesticide-free polices for public areas such as community parks and playgrounds, the laws do not extend to private property. However, the growing demand for organic land care is coming from all sectors: homeowners, municipal park managers, and business professionals alike. Examples from around the country prove that pest management without toxic chemicals is effective and successful. This is just the tip of the iceberg, as new policies and programs that have restrictions on pesticide use are continually being implemented by local and state government entities, as well as schools and homeowner associations.
Many landscapers and pest control operators push the notion that without toxic pesticides buildings and lawns would be overwhelmed by disease-carrying pests and unsightly and dangerous weeds. However, real-world experience shows that pest problems can be effectively managed without toxic pesticides. The vast majority of insect and weed pests may be a nuisance, or raise aesthetic issues, but they do not pose a threat to children's health. Where they do present a threat, they can be prevented or managed effectively without toxic chemicals. There is no rational use of a toxic pesticide linked to asthma, cancer, learning disabilities or other adverse health effects to manage pest problems when safer alternative non-chemical and least-toxic pest management strategies exist.
For more information, see Beyond Pesticides lawn and landscape pages and children and pesticides pages.
Sources: The Bernardsville News, http://www.beyondpesticides.org
All unattributed positions and opinions in this piece are those of Beyond Pesticides.