Washington, DC–(ENEWSPF)–February 1, 2013. The U.S. Environmental Protection Agency (EPA) announced its decision to go ahead with the cancellation of 12 rodenticide products which posed "unreasonable adverse effects on the environment." The decision came after manufacturer Reckitt Benckiser's refusal to adopt EPA safety standards for its d-CON mouse and rat control products.
The action follows EPA's Notice of Intent to Cancel (NOIC), issued in 2011, to Reckitt Benckiser and two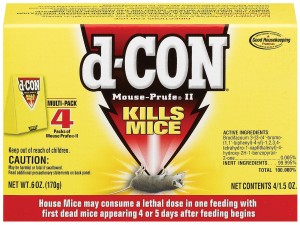 other companies, Liphatech and Spectrum Group Division of United Industries Corporation, which voluntarily removed eight of their products from the market and were therefore not listed for cancelation by EPA.
EPA requires that rodenticide products sold to individual consumers are in tamper-resistant bait stations, rather than in pellet or powder form. Additionally, EPA recognizes the risks that rodenticide products containing brodifacoum, bromadiolone, difethialone, and difenacoum pose to wildlife and will no longer allow them to be sold or distributed in the consumer market. However, use by professional applicators and in agriculture will still be permitted as long as they are in bait stations. EPA says this will reduce the amount of product in the environment, providing additional protection for wildlife from poisonings by these more toxic and persistent products. However, many wildlife poisonings do not come from direct contact with the bait. These rodenticides have been tied to the poisonings of federally listed threatened and endangered species, uch as the San Joaquin kit fox and Northern spotted owl, and the Bald eagle. Rodents can feed on poisoned bait multiple times before death, and as a result their carcasses contain residues that may be many times the lethal dose. Poisonings occur when predators or scavengers feed on these poisoned rodents.
While Beyond Pesticides commends EPA for following through with its NOIC in order to protect residential consumers and children, unfortunately, there are several shortcomings to its decision. Human and wildlife exposures to these toxic chemicals, though slightly minimized, will nevertheless continue because of their continued availability for use in agricultural production and to pest control operators. Pest control operators will still be allowed to use these chemicals in homes, at their discretion, which means residential exposures continue, albeit at slightly lower levels. These measures also do not apply to rodenticide field uses, or to tracking powder products, which may utilize any of the ten rodenticides, and thus continue to impact residential consumers and non-target wildlife.
EPA expects Reckitt Benckiser will request an administrative hearing to challenge the ruling, and if so the company's products can continue to be sold until a finding is made. EPA official Rusty Wasem estimated that if the company decides to challenge the decision, it will be another 12 to 18 months before the products are canceled.
For more information on rodenticides and their impacts on human health, wildlife, pets, and the environment, read Beyond Pesticides' recent article in Pesticides and You. Or for least toxic control of mice and other pests, visit the alternatives page.
All unattributed positions and opinions in this piece are those of Beyond Pesticides.
Sources: U.S. Environmental Protection Agency, http://www.beyondpesticides.org