Washington, DC–November 7, 2016. In a letter last week on the widely used weedkiller atrazine, Rep. Ken Buck (R-CO) and 105 of his colleagues told Gina McCarthy, administrator of the U.S. Environmental Protection Agency (EPA), that, "It would be irresponsible to greatly restrict one of the safest and most trusted herbicides on the market." The letter was triggered by EPA's release in June of its draft Ecological Risk Assessment on atrazine, which found levels of concerns exceeded by as much as 200-fold for some organisms. Lawmakers indicated that the draft assessment in its present form, "Would have a significant impact on farmers and rural communities nationwide." Despite a wealth of information to the contrary, they claim that restricting the use of atrazine would put an unnecessary financial burden on farmers.
Atrazine, produced by Syngenta, is the second-most widely used pesticide in the U.S., with over 73 million pounds applied each year. While Rep. Buck claims that atrazine is a safe chemical, years of research shows that the chemical poses unacceptable risk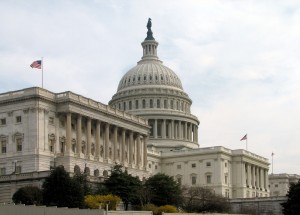 s to human health and the environment.  Once applied, the chemical often washes into surface water and leaches into groundwater. Water contamination issues spurred community water utilities across the U.S. to file a class-action lawsuit to remove the pesticide from drinking water supplies. In 2012, Syngenta agreed to a $105 million settlement, reimbursing 1,085 community water utilities for the cost they incurred cleaning up the toxic herbicide.
Under EPA drinking water standards that are deemed "safe," atrazine has been linked to endocrine disrupting effects. In their letter, the GOP lawmakers state that the herbicide has been "one of the most thoroughly studied herbicides." In fact, studies of atrazine have linked the pesticide to numerous adverse health effects, including childhood cancer, choanal atresia, and gastroschisis, a rare birth defect. A 2010 study led by Sarah Waller, PhD, of the University of Washington, Seattle, linked a 2- to 4-fold increase in gastroschisis (a birth defect of the abdominal wall that results in a baby's intestines  moving outside the body) over the past three decade to atrazine use in agriculture. Dr. Waller's group is not the first to report a link between gastroschisis-like birth defects and atrazine exposure. In 2007, Indiana researchers reported in the Journal of Pediatric Surgery that in their state, where rates of such birth defects are also very high, atrazine levels were significantly linked with the rate of gastroschisis and other defects. Later in 2009, another study published in Acta Paediatrica found similar results for the general rate of birth defects in the U.S. population. This research shows the increased risk of nine birth defects in babies born to mothers who conceived between April and July, when surface water levels of the pesticide are highest.
Atrazine is the most commonly detected pesticide in rivers, streams and wells in the United States. This is cause for concern especially in freshwater ecosystems that are susceptible to even the smallest amount of contaminants in their ecosystems. The study, Atrazine induces complete feminization and chemical castration in male African clawed frogs (Xenopus laevis), led by Tyrone Hayes, PhD, at the University of California, Berkeley, demonstrates the reproductive consequences of atrazine exposure in adult amphibians. Dr. Hayes and other researchers examined a group of 40 African clawed frogs, all of which carried male chromosomes. In his study, tadpoles were subject to an atrazine concentration of 2.5 parts per billion, a concentration that is within federal drinking water standards. His results found that genetic male frogs exposed to atrazine concentrations in the environment developed into functioning female frogs.
"It's a chemical . . . that causes hormone havoc," Dr. Hayes commented. "You need to look at things that are affecting wildlife, and realize that, biologically, we're not that different." See Dr. Hayes talk, Learning from an Environmental Tragedy, at the 33rd National Pesticide Forum.
Rep. Buck's letter also states, without citation, that the restriction of atrazine will cost farmers an additional $59 dollars per acre. However, an economic study published in 2014, Would banning atrazine benefit farmers?, finds that farmers will save money. The research, led by Frank Ackerman, PhD, professor at Tufts University's Global Development and Environment Institute, disputes the conclusions of a Syngenta study, which lawmakers are likely referencing in their letter. Dr. Ackerman and his colleagues critically reviewed five papers released by Syngenta's Atrazine Benefits Team (ABT) in 2011.  Syngenta's ABT found that the removal of atrazine would diminish corn yields by 4.4% and increasing prices by 8%. Using these assumptions, Dr. Ackerman and his team calculated that corn growers' revenue would actually increase by 3.2%, providing a total of $1.7 billion to farmers and the U.S. economy, with minimal price changes for consumers.
The letter from Rep. Buck and his GOP colleagues criticizes EPA, stating that it is using science that the agency's own Science Advisory Panel rejected in 2012. In fact, EPA cites recent studies in the independent peer reviewed literature in its analysis. New science has replicated the findings of earlier studies going back to 2012 and before. The congressional letter appears to be a clear denial of the science on par with climate change denial.
If you're interested in taking action to help eliminate atrazine from use across the country, sign Beyond Pesticides' petition to EPA calling for the cancellation of this chemical today. Although the public comment period on the agency's draft ecological risk assessment for atrazine is closed, stay tuned for the latest opportunity to voice your opinion directly to the agency by signing up for Beyond Pesticides action alerts.
Sources: Politico 
All unattributed positions and opinions in this piece are those of Beyond Pesticides.
Source: http://beyondpesticides.org