Washington, DC–(ENEWSPF)–October 24, 2012. The American Academy of Pediatricians (AAP) has weighed in on the organic food debate recognizing that lower pesticide residues in organic foods may be significant for children. The Academy also notes that choosing organic is based on larger environmental issues, as well as human health impacts like pollution and global climate change. This is the first time the AAP has made a statement on organic foods, concluding that the most important thing for children is to eat a wide variety of produce, and that pediatricians should talk to their patients about the potential health and environmental benefits of choosing organic.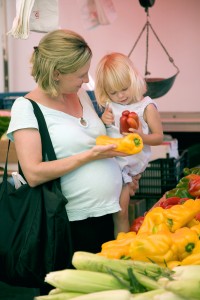 There have been conflicting media reports of the American Academy of Pediatrics' (AAP) recent report on organic foods, published online in Pediatrics. However, the academy is clear that organic foods do provide health advantages by way of reducing exposure to pesticides, especially for children, even reporting "sound evidence" that organic foods contain more vitamin C and phosphorus. According to the report, "in terms of health advantages, organic diets have been convincingly demonstrated to expose consumers to fewer pesticides associated with human disease. Organic farming has been demonstrated to have less environmental impact than conventional approaches." It also goes on to note that organic farming can be competitive and yields comparable to those of conventional farming techniques. AAP recommends that "pediatricians should incorporate this evidence when discussing the health and environmental impact of organic foods and organic farming while continuing to encourage all patients and their families to attain optimal nutrition and dietary variety."
The report is described as a clinical report reviewing the health and environmental issues related to organic food production and consumption. It defines the term "organic," reviews organic food-labeling standards, describes organic and conventional farming practices, and explores the cost and environmental implications of organic production techniques. It also examines the evidence available on nutritional quality and production contaminants in conventionally produced and organic foods.
"At this point, we simply do not have the scientific evidence to know whether the difference in pesticide levels will impact a person's health over a lifetime, though we do know that children – especially young children whose brains are developing – are uniquely vulnerable to chemical exposures," said Joel Forman, MD, FAAP, a member of the AAP Council on Environmental Health and one of the lead authors of the AAP clinical report. "Pediatricians want families to have the information they need to make wise food choices," said Dr. Forman. "We hope that additional research will improve our understanding of these issues, including large studies that measure environmental exposures and neurodevelopment."
On Nutritional Content
In its analysis, the AAP notes that research comparing the nutritional value of conventionally grown produce and organic produce is "not definitive," citing that nutritional content is affected by various factors including geographic locations, soil characteristics and climatic conditions. The report finds that better quality research that accounts for these many variables is needed to make accurate comparisons, and concludes that at this time, there is no convincing evidence of a substantial difference between the nutritional content of organic and conventional foods.
On Milk and Meat
The AAP also notes here that due to variability in cattle breeds and genetics, comparisons of milk composition must be "interpreted with caution." In reviewing the scientific literature, AAP finds little significant differences in compositions, but organic milk does have slightly more protein than conventional milk, and milk derived from organic and non-organic low input systems yield milk higher in conjugated linoleic acid. AAP also notes that hormone supplementation, which is prohibited in organic, does not adversely impact nutritional composition of conventional milk, but the "biological effects in humans, if any, are unknown." Furthermore, AAP states that studies are needed to investigate the risks to women who eat hormone-treated animals and the development of breast cancer. The AAP calls for large, well-designed, prospective cohort studies that directly measure environmental exposures, such as estrogen at low levels, to understand the impact of hormonal exposure of children through milk and meat.
On Antibiotics
On the nontherapeutic use of antibiotics in livestock, AAP notes that the evidence is clear that the use of these agents can promote the development in drug-resistant organisms, which can then spread through the food chain. Organic farming, which prohibits the use of nontherapeutic antibiotics, therefore reduces this threat and, by extension, lowers the risk of human disease caused by drug-resistant organisms.
On Environmental Impacts
Organic farms use less energy and produce less waste, have soils with higher organic quality and water retention. A review of studies found that organic systems can have comparable productivity to conventional fields, while using less pesticides and reducing environmental pollutions.
A recent survey reveals that organic is, in fact, growing. Organic growers in the U.S. sold more than $3.5 billion organically grown agricultural commodities in 2011. Contrary to reporting on the recent Stanford University study that mischaracterized the value of purchasing expensive organic food, the study found that consumers are exposed to elevated levels of pesticides from conventionally grown food. The reporting ignored the study's reference to pesticide residues on chemically grown food, as well as the broader benefits of organic practices that protect farmers and farmworkers, air and water quality, wildlife and biodiversity. Organic foods have been shown to reduce dietary pesticide exposure and children who eat a conventional diet of food produced with chemical-intensive practices carry residues of organophosphate pesticides that are reduced or eliminated when they switch to an organic diet. Studies have found additional health benefits to eating organic. A ten-year University of California study, which compares organic tomatoes with chemically grown produce, finds that they have almost double the quantity of disease-fighting antioxidants called flavonoids. A comprehensive review of 97 published studies comparing the nutritional quality of organic and conventional foods shows that organic plant-based foods (fruits, vegetables, grains) contain higher levels of eight of 11 nutrients studied, including significantly greater concentrations of the health-promoting polyphenols and antioxidants. A study by Newcastle University, published in the Journal of Science of Food and Agriculture, finds that organic farmers who let their cows graze as nature intended are producing better quality milk.
In addition, the adoption of organic methods, particularly no-till organic, is an opportunity for farming both to mitigate agriculture's contributions to climate change and to cope with the effects that change has had and will have on agriculture. Good organic practices can both reduce fossil fuel use and provide carbon sequestration in the soil through increased soil organic carbon. Higher organic soil carbon levels then increase fertility and the soil's ability to endure extreme weather years.
Beyond Pesticides advocates in its program and through its Eating with a Conscience website choosing organic because of the environmental and health benefits to consumers, workers, and rural families. The Eating with a Conscience database, based on legal tolerances (or allowable residues on food commodities), describes a food production system that enables toxic pesticide use both domestically and internationally, and provides a look at the toxic chemicals allowed in the production of the food we eat and the environmental and public health effects resulting from their use. For more information on the benefits of organic agriculture, see Beyond Pesticides' Organic Food program page.
Sources: American Academy of Pediatricians Press Room, http://www.beyondpesticides.org
All unattributed positions and opinions in this piece are those of Beyond Pesticides.