Washington, DC–(ENEWSPF)–March 12, 2013. March 12, 2013) Despite the loss of Proposition 37 in California last November, GMO labeling efforts are moving forward throughout the United States. Late last week Whole Foods Market announced its own plan to label food with genetically engineered (GE) ingredients sold in its stores, making it the first grocery chain in the nation to do so. In addition to the recent introduction of a National GE labeling bill in Congress by Representative Jared Polis (D-CO), Hawaii, Vermont, and Minnesota join the ranks of numerous other states with pending GMO labeling legislation.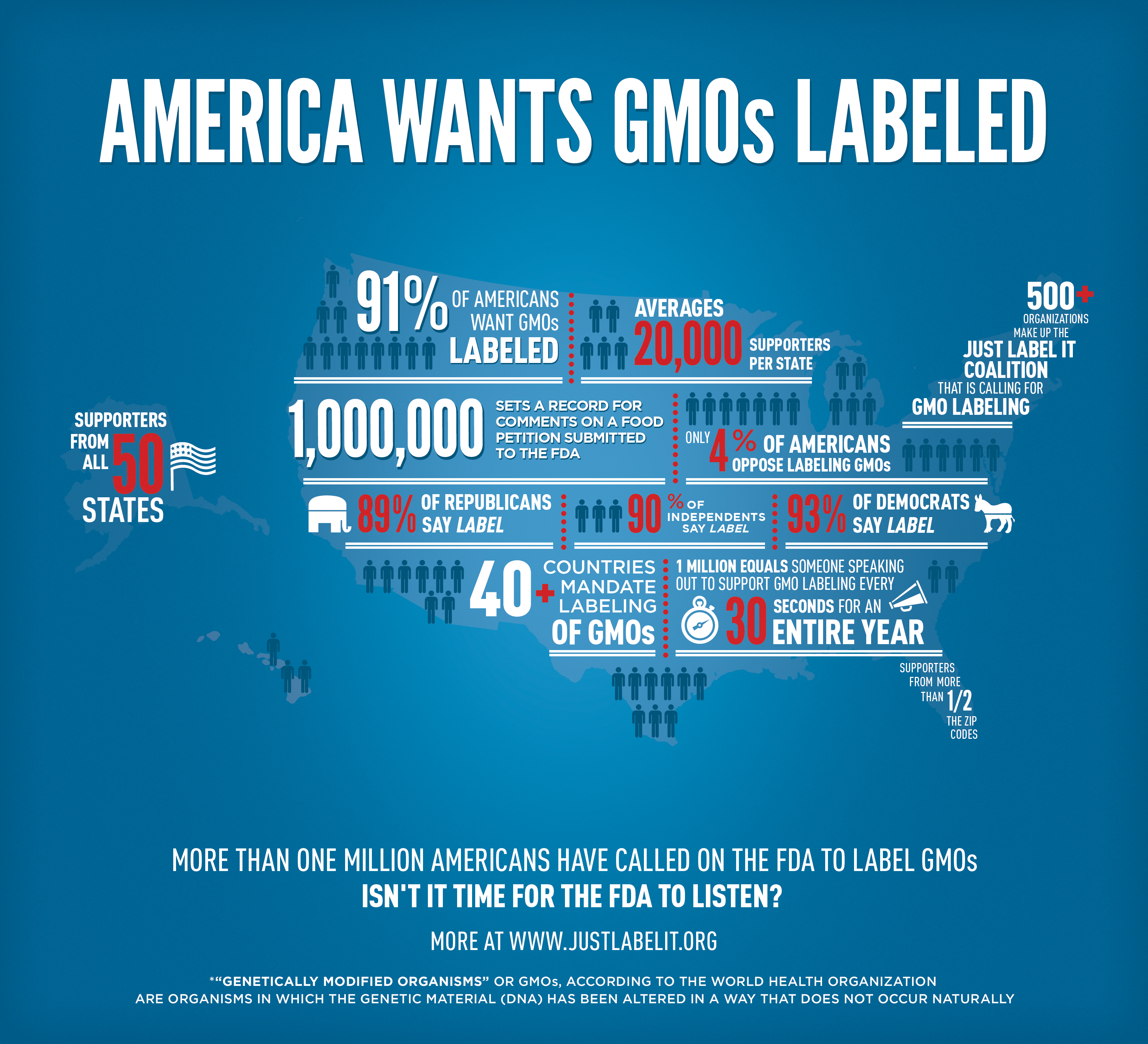 Whole Foods' plan requires a label for all GE food sold in its stores within the next fives years. The retailer notes that the move was made in response to customers' increased demand for labeled products. "Some of our manufacturers say they've seen a 15 percent increase in sales of products they have labeled [as non–GMO]," explains A.C. Gallo, Whole Foods president. The chain's labeling requirements include all of its North American stores, as its European supermarkets already require this label. The Grocery Manufacturer's Association (GMA), an industry trade group that represents a number of major food retailers including Pepsico Inc., The Coca Cola Company, Kelloggs, and General Mills, but also agrichemical companies like Monsanto, Dow Agrosciences, and Bayer, opposes the move by Whole Foods. During the course of California's Proposition 37 campaign, opponents of GE labeling poured over $46 million dollars into deceptive advertising, and still only narrowly defeated the ballot measure. As organic activist Jim Hightower notes in a recent editorial, "But Monsanto doesn't win them all, and sometimes it actually loses when it appears to have won." As more retailers begin to reconsider their relationship with the likes of GE producers, and polls continue to show overwhelming support for GE labeling, the movement continues to gain ground at the state level.
Hundreds of anti-GMO activists marched to bring awareness to a GMO labeling bill scheduled to be heard in the Hawaii State Senate March 14. Apart from an intrinsic right to know, organizers for the push to label GE products, such as GMO- Free Kaua'i and Hawai'I SEED, are concerned about the spillover effects of GE crop production on the islands. Many GE crops are developed to be resistant to herbicides, such as Monsanto's Roundup, and the massive spraying campaigns these large agrichemical companies perform are affecting the health of Hawaiian citizens, the organizers say. "I think it is downright insensitive of politicians, chemical companies and corporations to not even take into consideration what they are doing and the effects on us," says Loretta Ritte, founding member of Label it Hawai'i. In addition to the growing of GE crops on the island, Hawaii's pristine climate is used by agrichemical giants to experiment with new forms of herbicide resistant crops. "We think that it is in the best interest of the (Hawai'i) Tourism Authority and all of the county agencies on the island to reform the use of pesticides to protect the visitor industry and our ability to grow food," says Jeri DiPietro of GMO- Free Kaua'i. Not only are these companies experimenting with new forms of herbicide resistant crops on the islands, they are also not telling the people exactly what, or how much they are spraying. Kaua'i County Councilman Gary Hooser explains in a recent blog post that these corporations are refusing to disclose to public officials the name and amount of chemicals they are spraying on the island. "For me," Councilman Hooser says, "that alone is enough to keep me from buying their products or supporting their industry, and to support full labeling requirements."
In other states around the country, GE labeling is looking more promising than ever. Vermont's House Agriculture Committee recently approved a GE labeling bill. Although the bill was also moved through the same committee last year, it was introduced too late in order to bring to a vote of the entire Vermont legislature. The passage of the bill early in the year, notes Andrea Standler of Rural Vermont, means that it will have a good chance of making it through the legislative process. Meanwhile, a GE labeling bill was recently introduced in both the Minnesota House and Senate. "It's such a basic right, the right to know what's in the food you're eating," says Representative Karen Clark, who introduced the House version of the bill. "This legislation is really a very moderate step. It doesn't ban genetically modified ingredients. It just lets consumers know about them so they can make their own choices."
For more information on the environmental hazards associated with GE technology, visit Beyond Pesticides' Genetic Engineering webpage. The best way to avoid genetically engineered foods in the marketplace is to purchase foods that have the U.S. Department of Agriculture (USDA) Certified Organic Seal. Under organic certification standards, genetically modified organisms and their byproducts are prohibited. For many other reasons, organic products are the right choice for consumers.
For a discussion on federal and local GE labeling efforts and what we can do to protect food security and biodiversity, including strategies to move forward, join us for our 31st National Pesticide Forum in New Mexico April 5-6. Andrew Kimbrell, executive director of Center for Food Safety will be joined by local organic farmers and organizers, including: Eleanor Bravo of Food and Water Watch–NM, who helped with New Mexico's labeling bill, and Isaura Andaluz, executive director of Cuatro Puertas and the only member of AC21 to dissent in the report on strengthening coexistence among agricultural production methods because of the undue burden it places on organic farmers. For more information and to register, go to www.beyondpesticides.org/forum.
All unattributed positions and opinions in this piece are those of Beyond Pesticides.
Sources: New York Times, The Garden Island, CT Post, Natural News, http://www.beyondpesticides.org
Image Source: Justlabelit.org