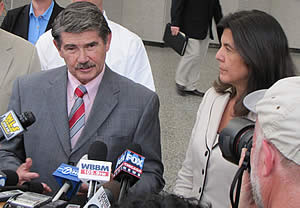 Clerk Orr and State's Attorney Alvarez answer questions about today's filing. (PHOTO SUPPLIED)
Cook County, IL-(ENEWSPF)- Cook County Clerk David Orr announced today he has filed his responses to the complaints in Lazaro v. Orr and Darby v. Orr, the lawsuits filed against the Clerk on May 30, 2012 which claim that Illinois' prohibition against same-sex marriage is unconstitutional.
According to Orr, he has told the Court that he agrees with the plaintiffs that they should be entitled to marry. Orr also said that he does not contest their claims that they were denied marriage licenses.
"Marriage equality is long overdue in Illinois," Orr said. "I support it in no uncertain terms."
Orr's position was filed on his behalf by the Cook County State's Attorney Anita Alvarez, who is representing him in these cases.
"The 2,336 same-sex couples who joined in civil unions since last June are irrefutable proof that Illinois discriminates against a large class of families by restricting marriage based on gender," Orr added. "These couples come from all walks of life-every town, every race, every faith and every class. Like all families, they contribute to society and like all families, they deserve society's protections.
"I look forward to a prompt resolution that will allow me to issue the first truly equal marriage licenses before autumn."
Orr has been a long-time proponent of equal access to marriage. His office administered the Cook County Domestic Partnership Registry from its inception in 2003 until June 1, 2011, when Illinois' Civil Union Law took effect.
There have been 1,266 female unions in Cook County since last June as well as 1,070 male unions and 218 opposite sex civil unions.