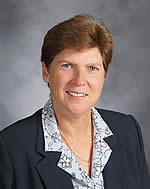 Chicago Heights, IL–(ENEWSPF)– Marian Catholic High School Principal, Sister Kathleen Anne Tait, O.P. has been named by the Archdiocese of Chicago's Office for Racial Justice to receive the St. Katharine Drexel Racial Justice Award.
The St. Katharine Drexel Racial Justice Award is named in honor of the American founder of the Sisters of the Blessed Sacrament, who devoted her entire life to holiness and work among Native and African American peoples.
Sister Kathleen Anne Tait is a founding member of the Springfield Dominican and Archdiocese of Chicago's anti-racism teams. Her commitment to the principles of anti-racism as an institutional issue that must be pro-actively and effectively addressed, has led to the establishment of the first institutional anti-racism team in the archdiocesan school system, and the Springfield Dominican network of schools.
Marian Catholic President, Sister Judine Hilbing, O.P. is delighted that Sister Kathleen Anne has been selected for this award.
"Sister Kathleen Anne has been very faithful in her efforts to work toward a school environment at Marian Catholic that is anti-racist both in policy and in practice," she said.
Others from Marian's Anti-Racism Team agree.
"Sister Kathleen Anne has been instrumental in creating a strategic plan designed to foster a positive climate for Marian Catholic High School's diverse student body. Her advocacy includes organizing an Anti-Racism committee that consists of board members, administrators, teachers, staff, parents and other stakeholders, who are dedicated to dismantling racism within the school community," said Dr. Shirley Morris, Assistant Principal of Academics at Marian.
Reginald Summerrise, current parent and member of Marian's Anti-Racism Committee, echoes similar feelings.
"By far, Sister Kathleen Anne is one of the most forward-thinking leaders when it comes to diversity," he said. "She also has a special gift in her ability to forge relationships among groups of people."
Other St. Katharine Drexel Racial Justice Award winners being honored include Michael Rabbitt of St. Mary of the Woods Parish in Chicago; Elena Segura, director of the archdiocese's Office for Immigrant Affairs and Immigration Education; and Phyllis Winter, president of Children of Peace School on Chicago's near west side.
Along with the St. Katharine Drexel Racial Justice Awards, the Office for Racial Justice will honor Bishop Joseph Perry and Father Michael Pfleger, pastor of St. Sabina Parish, with Lifetime Achievement Awards in recognition of their lives of service in pursuit of dismantling racism, injustice and inequalities on behalf of African Americans and all people of color.
The awards will be presented at 7:00 p.m. April 7, 2010 at Christ the King Jesuit College Preparatory School during the Dr. Martin Luther King, Jr. Prayer Service. His Eminence Francis Cardinal George, O.M.I. will preside over the ceremony.