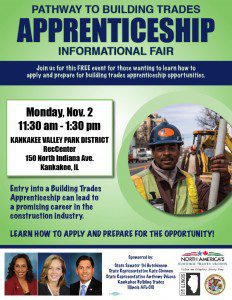 CHICAGO HEIGHTS—(ENEWSPF)—October 30, 2015. State Representatives Anthony DeLuca and Kate Cloonen, State Senator Toi Hutchinson, the Kankakee Building Trades and Illinois AFL-CIO will host the Pathway to Building Trades Apprenticeship Informational Fair on Monday, November 2 from 11:30 a.m. to 1:30 p.m. at the Kankakee Valley Park District RecCenter, 150 North Indiana Avenue.
Entry into a building trades apprenticeship can lead to a promising career in the construction industry. Learn how to apply and prepare for this opportunity.
The event is free and open to the public.
For additional information, call Rep. DeLuca's district office at 708-754-7900.
Source: Rep. Anthony DeLuca