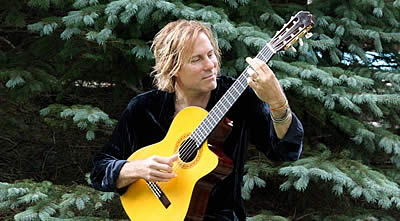 Peter Mayer. (PHOTO SUPPLIED)
Park Forest, IL-(ENEWSPF)- Guitarist, vocalist and songwriter Peter Mayer, widely known as the lead guitarist for Jimmy Buffett's Coral Reefer Band, enters into his twelfth consecutive year with the Stars and Promises Christmas Tour. The tour will make a Chicago area appearance at Freedom Hall in Park Forest, IL on Saturday, December 22 at 7:30 p.m.
Guitarist, vocalist and songwriter, Peter Mayer of the Peter Mayer Group, has melded a unique and eclectic writing style, a distinctive voice and virtuoso musicianship to create compelling and accessible music that is electrifying in live performance. Culling influences from his childhood in India that ranged from traditional Indian music to the Beatles, to his studying and teaching Jazz guitar; add his many years working in Jimmy Buffett's Coral Reefer Band, and having the opportunity to share the stage with others that include James Taylor, Mac McAnally, Sonny Landreth, Don Henley and others, and it tells part of the musical story of the Peter Mayer Group.
Each December, the Peter Mayer Group embarks on its Christmas Tour, Stars and Promises. For many, these performances kick off the Christmas-Holiday season and have become both a thrilling and meaningful part of their celebration. These performances feature a collection of original and traditional Christmas music played by an inventive ensemble that features R. Scott Bryan (Sheryl Crowe, Mama's Pride, Jeff Coffin) on percussion, guitar, and vocals; Marc Torlina (Chuck Berry, Neil Sedaka, Treme Terra) on bass and vocals; Maggie Estes (Buddy Spicher, Leahy, Mike Snider) on Violin and Mandolin; and Chris Walters (Bela Fleck, Alabama, JD Souther) on keyboards, plus the beautiful scenery and sonic presentation brought on board by the production of Chad Stewart and Stewart Sound.
Tickets for this concert are $28 and can be purchased at Freedom Hall, 410 Lakewood Boulevard, Park Forest, IL, by phone at 708-747-0580, or online at www.freedomhall.org .
If you would like more information about the Freedom Hall Series, please call Chuck Sabey at 708-503-8258 or e-mail Chuck at [email protected]