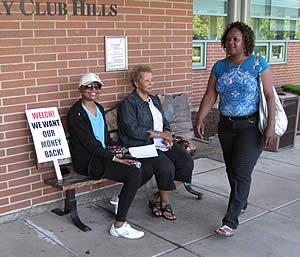 Shelia and Lela Walker, seated, wait before the meeting with a message for the mayor, "Welch, we want our money back." (Photo: Gary Kopycinski)
Country Club Hills, IL-(ENEWSPF)- The Country Club Hills city council voted Monday night to strip Mayor Dwight Welch of the taxpayer-funded credit card he had carried for years after allegations surfaced in the press that he misused the account.
"You misappropriated funds," Alderman Vince Lockett asserted at one point during the meeting, interrupting the mayor, who repeatedly refused to recognize Lockett.
"I'm not shamed of what I've done," Welch said, attempting to justify charges on the city credit card.
The council chamber was filled to capacity, the board room next to the council chamber was full, the foyer of city hall was packed, and some waited outside on the sidewalk for news.
At various points during the meeting, members of the public in the foyer laughed, clapped, or otherwise let their feelings be known as they watched the meeting on a flat-screen television.
It was not a good day to be the mayor.
The council voted unanimously to take back Welch's credit card and cancel all other cards. The city will have only one credit card, overseen by the treasurer. Welch joined the majority in rescinding his credit privileges. "I think you were surprised by that," Welch told council after his vote.
Residents filled the council chamber and neighboring conference room. (Photo: Gary Kopycinski)
Video of the meeting:
Related: Public Comment After Mayor Dwight Welch Loses City Credit Card (Video/Story)