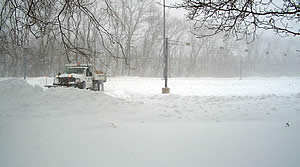 A snow plow removes works the 211th Street Metra lot the morning of February 2. (Photo: Daniel Karwatka)
Park Forest, IL-(ENEWSPF)- As forecasts for the February 1 and 2 blizzard came in from many sources, including Cook County Homeland Security, the Park Forest Fire Department and Public Works joined forces. As the eventual 19-inches of snow began to fall, one snow plow was dedicated to the fire station to accompany ambulances on calls, ensuring medical aide arrived in a timely manner.
By mid-morning Wednesday, all side streets had been plowed once, and the plow was returned to service, officials said.