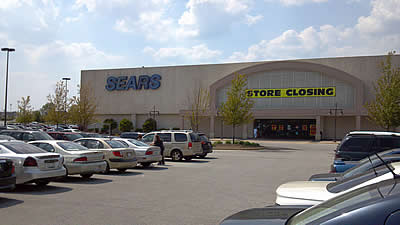 Sears in Matteson closed in the spring of 2012. (Photo: Gary Kopycinski)
Village of Matteson: Owner no longer paying for repairs or maintenance
Matteson, IL-(ENEWSPF)- After spending more than a year demanding that the owner of Lincoln Mall bring the crumbling complex up to basic operating standards, a Cook County Judge has ordered the mall in Matteson to be closed after the holiday shopping season.
The order, issued late Monday by Cook County Judge Thomas Condon, was delivered because funds the owner initially provided for its upkeep have been depleted and nothing remains to keep the mall operating after December. Owner Michael Kohan has provided a court-appointed receiver with only $100,000 in the last 15 months to pay for the mall's repairs, maintenance and staffing, while the number of remaining tenants paying rent isn't enough to sustain daily operations.
Lincoln Mall will be permanently closed on Jan. 7. While the decision impacts dozens of employees and local merchants who work at Lincoln Mall, it will not impact the Carson Pirie Scott store connected to it, as Carson's will continue to operate even after the mall has been closed.
"As a village, we have done all that we can to keep Lincoln Mall open," said Village President Andre B. Ashmore. "We understand Judge Condon's decision, but this is incredibly disappointing for the local residents who make their livelihood at that mall. We will focus on helping them find new opportunities in Matteson to continue their retail operations."
The mall has been operated by an independent receiver since August 2013, when Judge Condon – citing a deteriorating condition that endangered the public – ordered Kohan to give up control of day-to-day operations, but to provide enough funds to pay building staff, make emergency repairs and conduct basic
maintenance. Kohan initially agreed, providing an initial $100,000. It took several months and a court order before Kohan paid another $50,000 in January.
The receiver, Collateral Trustee, has used those funds to pay overdue bills and daily operations. The receiver also spent substantial funds to fix hazardous conditions, including faulty fire exits and parts of the crumbling structure, while also blocking off parts of the mall that are partially demolished. Despite those repairs, the number of rent-paying tenants has dwindled from 56 to 40 in the last 15 months. That revenue alone is not enough to keep the mall open. In addition, the receiver expects $250,000 to remain past due by keeping the mall open an additional eight weeks.
There remains a lengthy list of repairs to be made at the mall. Work still needs to be done to address its structural integrity, while new exits need to be created to comply with fire safety codes. The mall's out-of-date operating system also needs to be replaced. Separately, Kohan continues to owe more than $10 million in unpaid fines and taxes.
In May, Kohan agreed to transfer ownership of Lincoln Mall to a new owner, to be selected by the Village of Matteson. That led the Village to hire commercial real estate developer Jones Lang LaSalle to seek proposals from private developers to take control of the mall. Two bids were received and are currently involved in the review process.  The President and Board of Trustees will be meeting with both developers in an attempt to determine whether they are qualified to take responsible control of the mall property.
As that review process continues, the receiver will continue to maintain the mall's basic systems until January 7 and will solicit bids to permanently separate Carson's operating systems from the rest of the mall – a process that could take up to six months, at a cost an additional $1.25 million. The Village of Matteson, meanwhile, will identify available retail spaces where displaced merchants can consider moving their operations once the mall closes.
Lincoln Mall opened in 1973 with more than 100 merchants, including multiple anchor stores. Though it changed ownership over the years, Kohan, a New York businessman, purchased the mall for $150,000 in a judicial sale in 2012. At that time, Kohan promised to pay all back taxes and to make the investments needed to correct code violations and make it functional once again.
Despite Kohan's lack of investment in the property, the area around Lincoln Mall has continued to thrive, with new retail and construction maintaining it as a retail hub. Matteson continues to provide an attractive demographic base with above-average incomes, home values and education, as well as a prime location, as it is home to main thoroughfares like Lincoln Highway, Cicero Avenue, Pulaski Road, Harlem Avenue and I-57.
Source: Village of Matteson