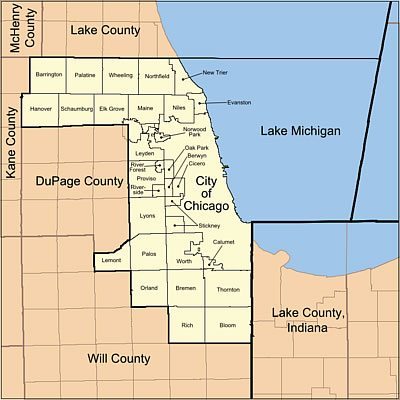 Cook County, Illinois. (
Wikipedia
)
Chicago, IL–(ENEWSPF)- Cook County Clerk David Orr reminds residents of suburban Cook County who have not registered to vote but still wish to that they must register by Tuesday, March 12, in order to vote in the April 9 election.
Voters will elect mayors and members of local city councils, library boards, park districts and school districts. Many communities will also have referenda on their ballots. Voters in the 2nd Congressional District will also vote in a Special Election for a new Congressman.
Voters who have recently moved or changed their name must re-register before the deadline.
Registration applications for suburban Cook County residents can be found at cookcountyclerk.com. Chicago residents should visit chicagoelections.com for information.
Completed applications should be mailed or delivered to the Cook County Clerk's office, 69 W. Washington St., 5th Floor, Chicago, IL 60602. Applications must be delivered or postmarked by March 12.
Anyone wishing to register in person can visit the Clerk's office downtown, their municipal or township office, or one of the Clerk's offices located at the five suburban Cook County courthouses:
Southwest suburbs: 10220 S. 76th Ave., Room 238, Bridgeview
South suburbs: 16501 S. Kedzie Ave., Room 238, Markham
West suburbs: 1311 Maybrook Square, Room 104, Maywood
Northwest suburbs: 2121 Euclid Ave., Room 238, Rolling Meadows
North suburbs: 5600 W. Old Orchard Road, Room 149, Skokie
Applicants should bring two pieces of identification, including one showing a current address. To qualify to vote, a person must be a United States citizen, at least 18 years old by Election Day (April 9) and a resident of his or her precinct for at least 30 days prior to the election.
Anyone who misses tomorrow's deadline will still be able to register during the grace period from March 13-April 6. Click here for details. During the grace period, applicants must register at specific locations: the Clerk's downtown office, five suburban courthouse offices, Chicago Heights Village Hall or Niles Village Hall.
For more information, visit cookcountyclerk.com or call 312-603-0906.