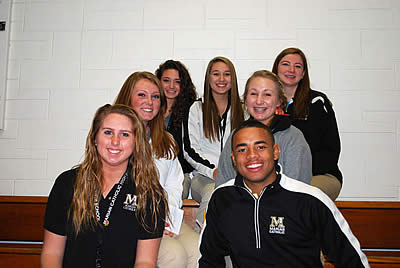 Student volunteers for Marian Catholic's Open House – Back Row: Sarah George '14, Chicago Heights; Heather Tilton '14, South Chicago Heights; andMaureen Volkman '13, Flossmoor; Middle Row: Marissa Brink '13, Chicago Heights; Courtney Fuhrman '14, Schererville; Front Row: Nicole Stevenson '13, Homewood; and Troy Nutall '13, Chicago Heights. (PHOTO SUPPLIED)
Marian Catholic High School hosted its annual Open House on Sunday, Dec. 2
Chicago Heights, IL-(ENEWSPF)- Marian Catholic's hallways were filled with future Spartans and their families eager to learn about the Marian Catholic community. The event featured tours, displays, and plenty of informational literature to familiarize families with the quality, college preparatory education that Marian Catholic provides for students. Marian has students from more than 72 zip codes in Chicago, the South and Southwest Suburbs, and Northwest Indiana.
"Open House gave over 300 of our current students and our entire faculty and staff the opportunity to talk with prospective families about the community which is Marian Catholic." Marian Catholic Assistant Principal of Student Activities John Kozojed said. "As I walk through the building during Open House, it never ceases to amaze me how passionate this community is about sharing their stories of participation in our excellent academic, extra-curricular, and religious programs. I believe the families who came to Open House learned something which we told our students prior to Open House – Our students are our best recruiters."
Marian Catholic Student tour guides showcased Marian Catholic High School's 776 College Board advanced placement exams with national recognition for 122 scholars; ACT composite scores in the top 10 percent nationally, the highly selective colleges Marian grads attend, and the more than $17.3 million in college scholarships that last year's graduating class earned.
Jennifer Harold Chambers '88, prospective parent and alum, was excited to see how the campus has evolved since she walked the halls as a student. "I was impressed with the sound studio, an editing/control suite, and a Mac lab and PC lab," Chambers said. "It was interesting to look at Marian from a parent's perspective; I like all of the extracurricular activities that are offered to students."  
Recruitment Director, Sr. Dorothy Marie, O.P. said, "The prospective parents and students who came to the Marian Catholic Open House had an overwhelmingly positive response to our excellent academics, our successful athletic and fine arts program, and our friendly and welcoming students and faculty. I have received many calls telling me how wonderful our student tour guides were and how much the visiting students want to come to Marian Catholic."
Marian has instituted a four-year formal leadership program for all its students. For excellence in education, Marian Catholic High School was named one of the Top 50 Catholic High Schools in the United States by the Catholic High School Honor Roll in 2004 and 2006. 
"Excellence and enthusiasm marked the afternoon. It was exciting to see MCHS students showcasing their school with such skill and pride," Sr. Mary Megan Farrelly, O.P., of the Board of Directors. "I hope potential students and their parents could see that Marian Catholic offers a very high quality education in a caring environment."
For further information please contact Allison Smith at 708-756-9770 or [email protected].