---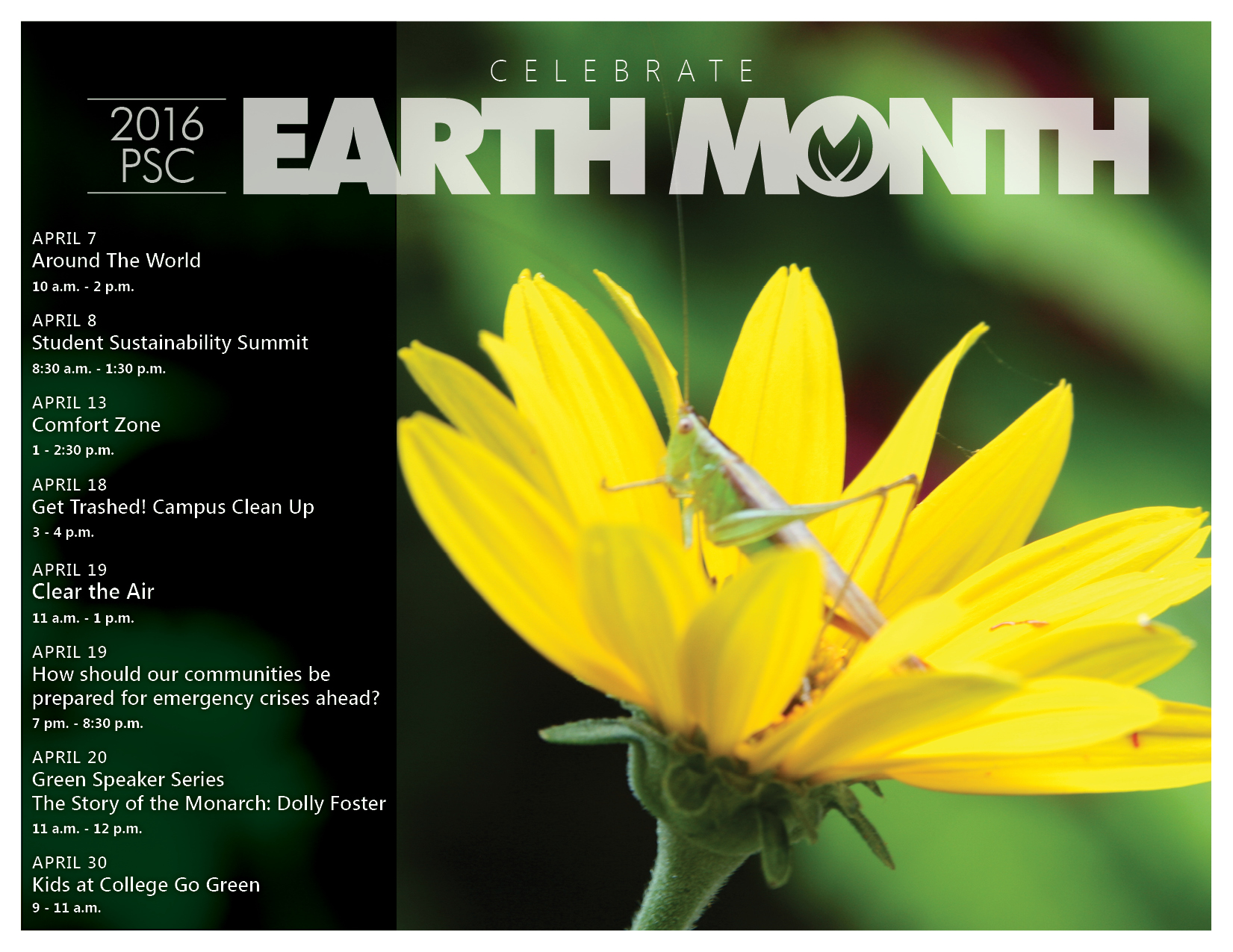 CHICAGO HEIGHTS–(ENEWSPF)–March 24, 2016.  Prairie State College, 202 South Halsted Avenue in Chicago Heights, will host the following 2016 Earth Month activities:
April 7, 2016
10 a.m. –  2 p.m.
Atrium
Around the World
The effects of climate change can be felt around the world. Meet the sustainability club in the Atrium, get your passport ready, and go around the world to learn about various endangered species.
Pick up your passport in the Atrium any time during the event. Visit all seven continents for your chance to be entered into our Around the World drawing for a Red Solo Cup and $10 McDonald's Gift Card. Two winners will be chosen.
April 8, 2016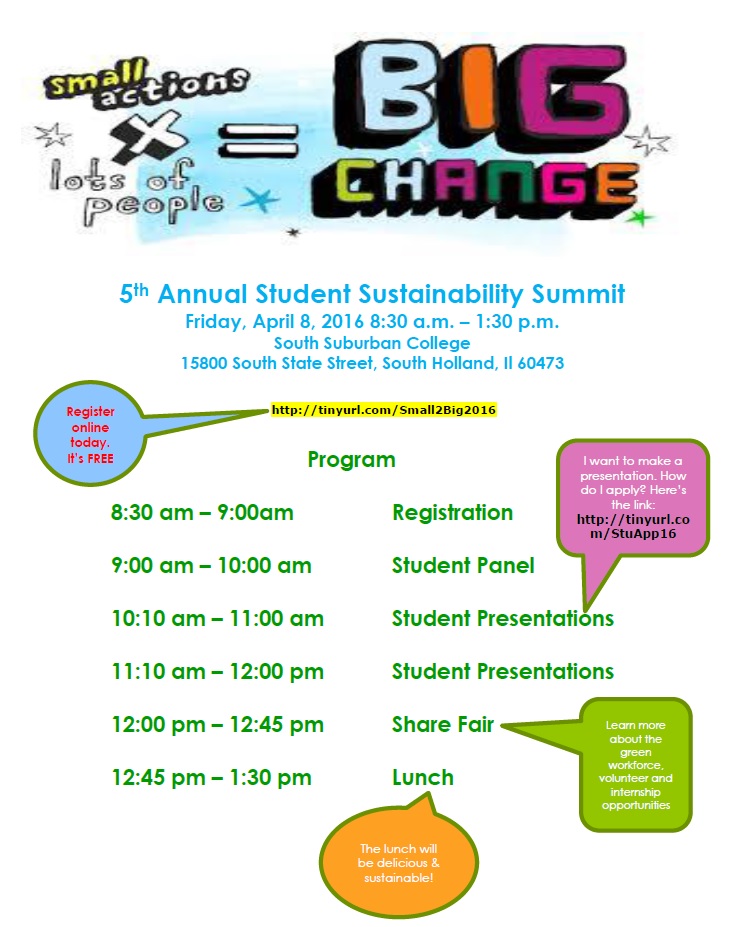 8 a.m. –  4 p.m.
South Suburban College
South Metropolitan Higher Education Consortium Student Sustainability Summit
Join us for the 5th annual Student Sustainability Summit created for students – by students.
Students from all 12 SMHEC colleges are invited to learn about sustainability outside their colleges, network with peers and have an opportunity to meet with professionals in the field. You will learn more about the green workforce, volunteer and internship opportunities during the share fair and you'll enjoy a delicious and sustainable lunch.
Advanced registration is required. Register at http://tinyurl.com/Small2Big2016.
We are looking for student presenters! Learn more at http://tinyurl.com/StuApp16.
April 13, 2016
1:00 – 2:30 p.m.
Conference Center, Room 1315
Comfort Zone
Join the sustainability club to watch Comfort Zone, a documentary with a unique approach to stimulating dialogue about climate change. The film is non-partisan, scientifically rigorous, and fun to watch. It's the story of three ordinary Americans each trying to find their own way to deal with the reality of climate change. It is also the story of how climate change will affect daily life in a typical Great Lakes setting.
April 18, 2016
3 – 4 p.m.
Parking Lot A
Get Trashed! Campus Clean Up
Join the sustainability club in this friendly competition to see who can pick up the most trash around campus. The winning class or club will receive a trophy and pizza party.
April 19, 2016
11 a.m. – 1 p.m.
Atrium
Clear the Air
Stop by the Atrium to learn about PSC's Smoke/Tobacco Free initiative. You'll learn about PSC's policy regarding tobacco use and have chance to play games for prizes. Want to Quit Cold Turkey? Now's your chance. Turn in your full or nearly full pack of cigarettes, make a pledge to Quit Cold Turkey and we'll give you a turkey sandwich and Subway gift card.
April 19, 2016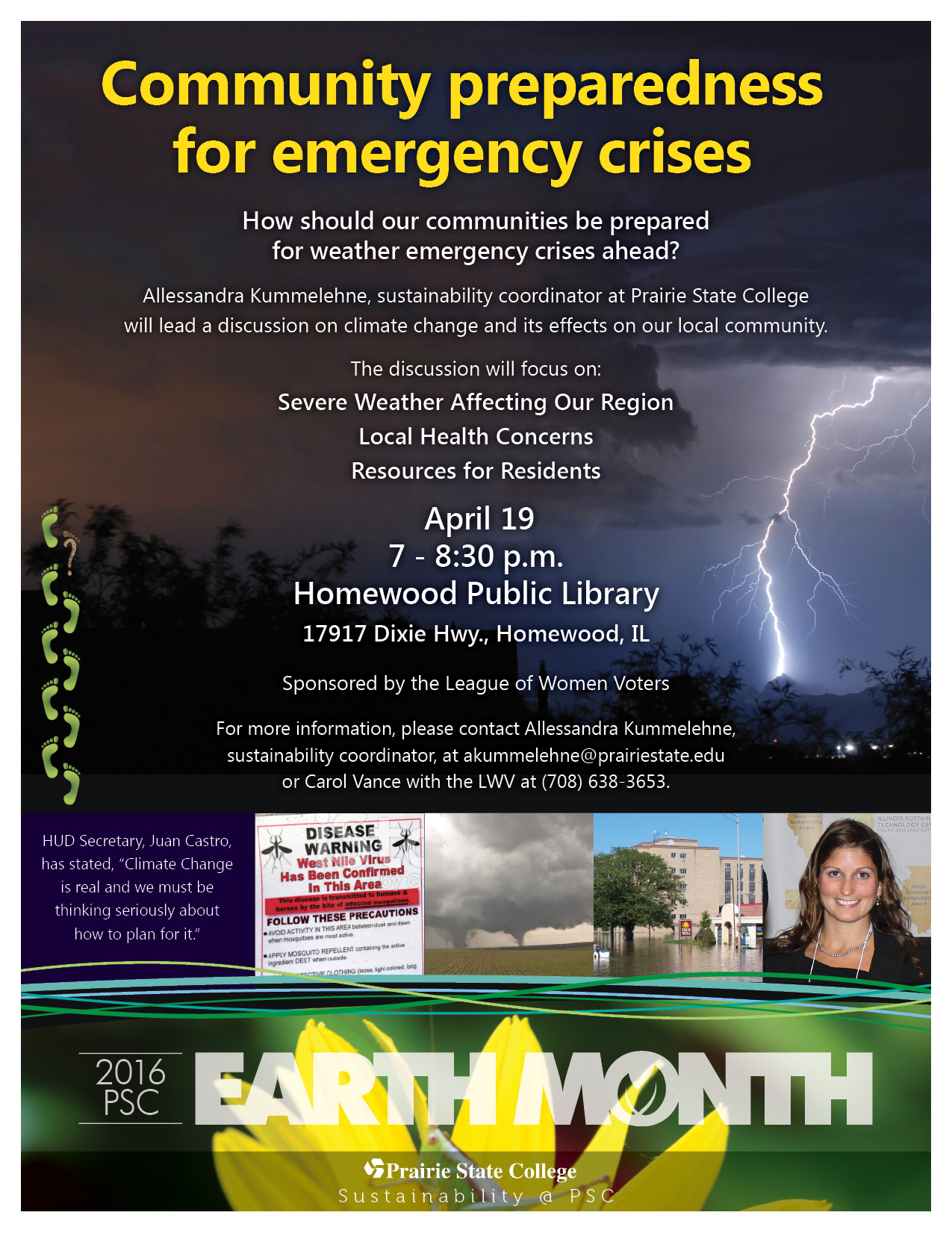 7 – 8:30 p.m.
Homewood Public Library
How Should Our Communities Be Prepared for Emergency Crises Ahead?
Allessandra Kummelehne, sustainability coordinator at Prairie State College will lead a discussion on climate change and its effects on our local community.
The discussion will focus on:
Severe Weather Affecting Our Region
Local Health Concerns
Resources for Residents
April 20, 2016
11 a.m. – 12 p.m.
Room 4105
The Story of the Monarch
Please join, Dolly Foster, Horticulturist and Monarch enthusiast, for this one-hour presentation on Monarch Butterflies. Learn about their life cycle, habitat and migration pattern, and what you can do to help!
April 30, 2106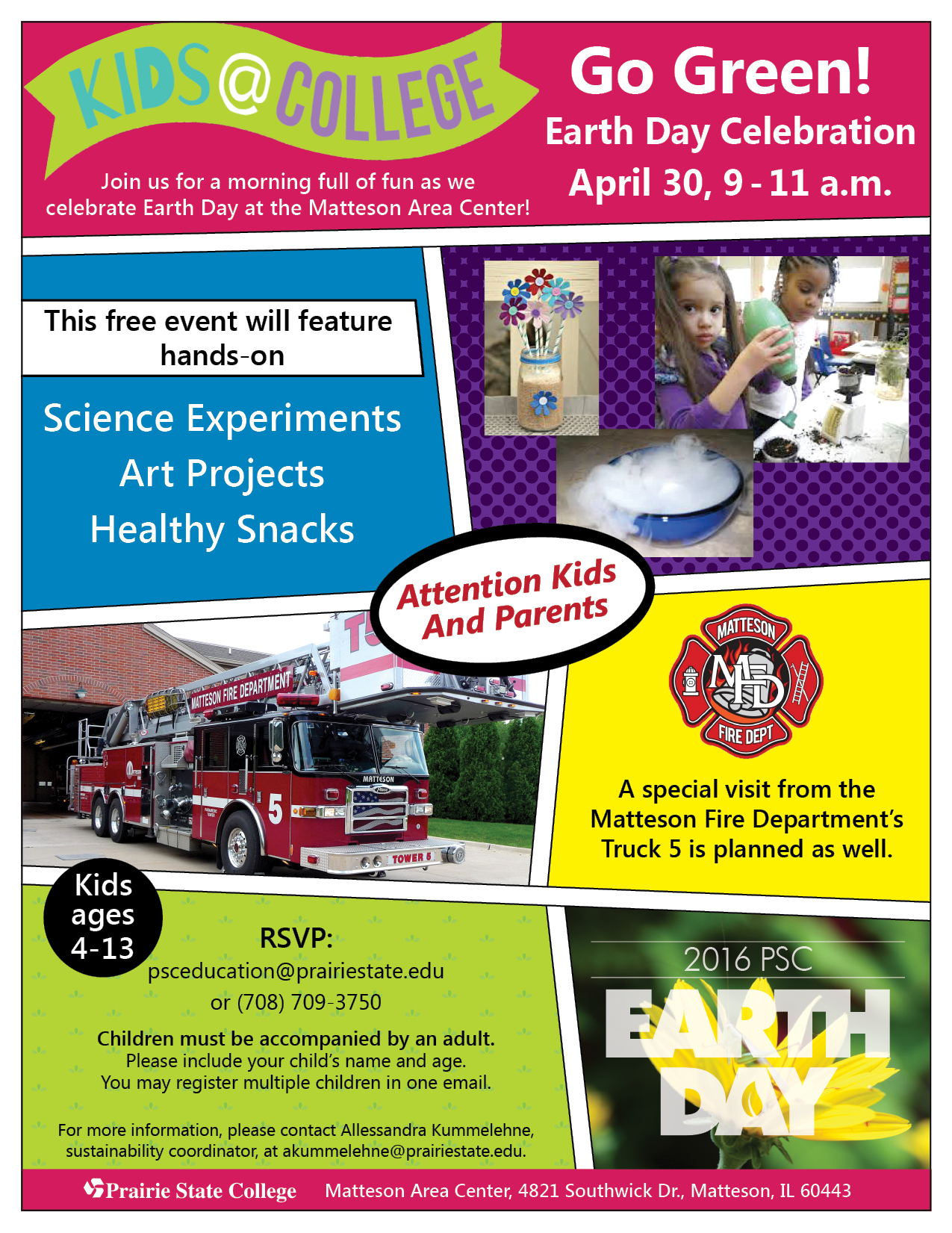 9 – 11 a.m.
Matteson Area Center
Kids @ College Go Green! Earth Day Celebration
Join us for a morning full of fun as we celebrate Earth Day at the MAC!
If you are between the ages of 4-13, join us for this FREE event where you will participate in hands- on activities, science experiments, and take home art projects.
A special visit from the Matteson Fire Department is planned as well.
R.S.V.P. by calling 708-709-3750 or emailing [email protected]. Please include your child's name and age. You may register multiple children in one email.
Source: http://www.prairiestate.edu