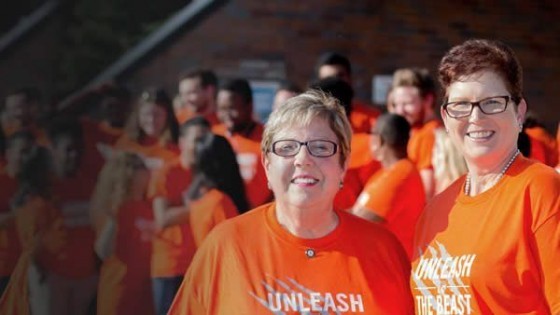 University Park, IL-(ENEWSPF)- Strategic initiatives at Governors State University designed to increase and enhance degree completion rates for minority males are paying off. Official fall enrollment numbers at GSU show an increase of 5.8%, or 804, minority males enrolled at Governor State University this fall.  Overall, the total number of males at GSU increased by 1.82%.
President Elaine Maimon said several university initiatives were created in response to a national movement to improve college completion rates by providing an affordable, accessible, high-quality pathway for community college students to complete their associate degree, transfer, and then complete their baccalaureate degree at a four-year college or university.
The university's total enrollment is counted on the tenth day of classes, or census.  Highlights of GSU's fall enrollment are:
Undergraduate student FTE and credit hours are up 0.36%.
Minority male enrollment is up 5.8%
Overall male enrollment up by 1.82%
Hispanic enrollment is up 3.7%
Residential Housing is at 100% capacity
After two years of record setting increases, the university is also reporting that enrollment growth has leveled in full-time equivalent enrollment (FTE), which is the measure used state-wide and nationally to compare university enrollment. Undergraduate FTE is up 0.36% over last year, while total student FTE dipped slightly by 0.85%. GSU's headcount is 5,818 students, a 2.02% decrease from fall 2016.
Despite ongoing state budget challenges, GSU maintains its commitment to putting students first by implementing initiatives geared toward helping students succeed. Tuition and mandatory fees remain the lowest in the state. Last March, GSU renewed its promise to cover Monetary Award Program (MAP) funding for eligible students for the entire 2016-17 academic year.
"We value life-long learning, and we go well beyond helping students find a first job," said President Maimon.  "Governors State University is committed to high quality education leading to employment and engaged citizenship."
Governors State University serves more than 5,800 undergraduate and graduate students with 59 degree and 24 certificate programs that prepare them for success in business, industry, healthcare, the arts, and education. As a state university, GSU is committed to providing high-quality, accessible, and responsible higher education opportunities. GSU is located 40 miles south of Chicago in University Park, IL and offers the most affordable undergraduate tuition and fees in the state. GSU is committed to embracing diversity and academic excellence.